Every parent wants to help their child learn how to read and write successfully, but when is the right time to teach your preschooler to write?
Well, actually, you shouldn't be teaching your young child to write formally. Instead, you should be teaching them important foundational skills instead.
Here are the reasons why, and also how to teach a kid to write, beginning with pre-writing activities.
The Process of Learning to Write
There are several reasons why teaching your child to write too early will actually do more harm than good.
It is important to leave the formal writing instruction to your child's school or, if homeschooling, start when your child is in the formal grades.
Why should you hold off on formal writing instruction?
Your child is simply not ready yet.
Children learn by being stimulated at their developmental level, through play. When they learn at their own level, they naturally progress and mature, developing more advanced skills as they go.
A child is not yet physically and developmentally ready to write during the preschool years. They will start experimenting with letters on their own and "writing" on their artwork, but they should not be forced to hold a pencil and form the letters correctly on a line.
Fine Motor Control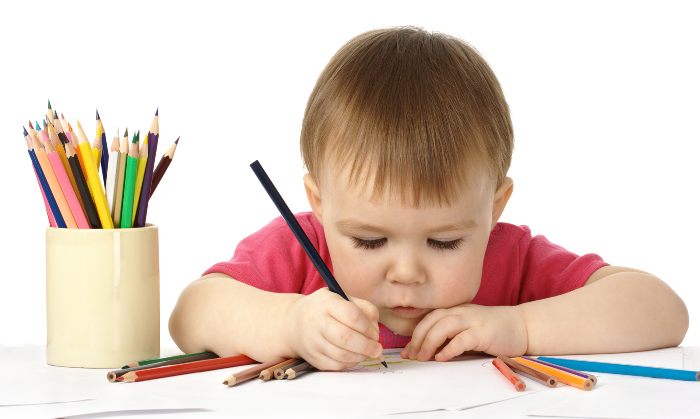 During the first few years, children are developing their fine motor control. Their finger muscles need to be strengthened through activities such as drawing, painting, playing with playdough, etc.
Pencil Grip
When the finger muscles become strengthened, children learn how to hold a pencil correctly, with a tripod grip. This is not easy for young children and they take time to develop this grip by holding crayons, chalk, pencils, etc.
The younger they are, the thicker the utensil must be (e.g. jumbo chalk). As they develop their grip and finger control, they can hold thinner crayons and pencils.
Gross Motor Control
Gross motor control means children are able to move and control their bodies. In order to sit and write at a desk, they must have strong core muscles, good posture and not tire easily.
The Natural Way of Developing
As children grow, the natural way of developing is always large to small. Here are some examples:
Large muscles before small muscles
They can catch large balls before small ones
They can draw with large paintbrushes before holding small ones
Books for younger children have larger letters than advanced books
Puzzles with large pieces are for younger children
This same principle must be applied to learning to write. Letters should be introduced in large before small. It is completely inappropriate to expect a young child to form a small intricate letter properly.
You can teach your child to write their name by introducing the letters through play and in a large format before writing them on paper.
Spatial Perception
Children develop spatial perception when playing by doing things like climbing through tunnels and chasing each other.
This helps them, much later, to space letters and words correctly on a page – next to each other, on the line, straight, small enough, starting next to the margin, etc.
Learning to Form Patterns
When formal writing is introduced at school, the teacher does not dive in and show the children how each letter is formed. They start with patterning.
They make zigzags and waves and all sorts of patterns on thick lines for a few weeks before starting the letters. These patterns all have shapes that teach the movements that children will use in the letters. A capital "A", for example, has a zig-zag in it and a "C" can be introduced with a curly wave pattern.
When they have learned to make these patterns, letters are introduced, one at a time, with separate lessons for each letter.
The teacher will explain the formation for each one e.g. Start at the top right, go up and around, all the way back up, then down the same line. Children must use the proper formation each time they write a letter.
It does not make sense to skip all these educational practices and teach your young child the letters out of the blue.
How to Teach a Kid to Write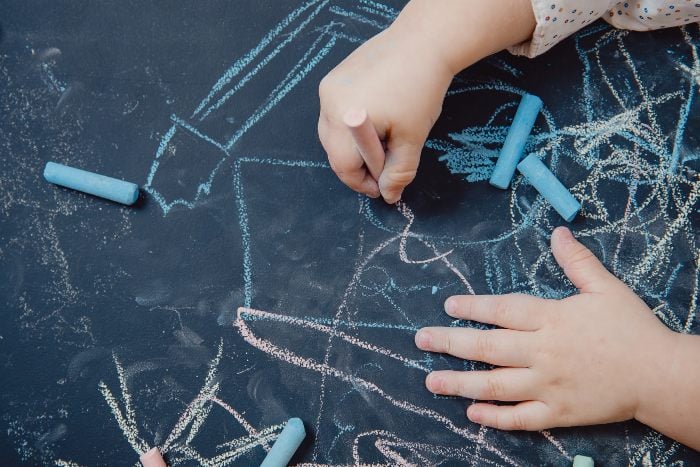 The good news is, there are lots of things you can do to teach your child the necessary foundational skills they need. This will ensure that when they are ready, they will learn to write naturally and with ease.
Expose your child to print often and talk about the print (road signs, books, etc.)
Model the correct letter formation when writing and put their name on the top of their drawings (First letter in uppercase, all the rest in lowercase).
Develop your child's fine motor skills.
Encourage your child to draw, paint and hold utensils frequently.
Develop your child's gross motor skills.
Correct your child's pencil grip or use a rubber pencil grip.
Let your children have lots of time for free play.
Play with letters such as wooden or plastic letters.
Sources:
Hendrick, H. 1990. Total Learning: Developmental Curriculum for the Young Child. Third Edition. Macmillan Publishing Company: New York.
Pieterse, M. 2007. Language and School Readiness. Metz Press: Welgemoed.
Get FREE access to Printable Puzzles, Stories, Activity Packs and more!
Join Empowered Parents + and you'll receive a downloadable set of printable puzzles, games and short stories, as well as the Learning Through Play Activity Pack which includes an entire year of activities for 3 to 6-year-olds.
Access is free forever.
Signing up for a free Grow account is fast and easy and will allow you to bookmark articles to read later, on this website as well as many websites worldwide that use Grow.