Early childhood is a time for playing, singing and all kinds of fun. Children are able to let go and do this much better than adults, who worry about the perceptions of others or take life a little too seriously at times.
Singing is one of the greatest activities for little ones, and all kids are drawn to it, along with their natural need to create, discover and play.
But singing songs is not just for fun. Singing helps a child's development in many ways and music is important in the early years.
This is why music is incorporated into every preschool lesson plan and is encouraged right from birth.
So, just how does singing help kids learn? Here are a few of the benefits of singing in early childhood.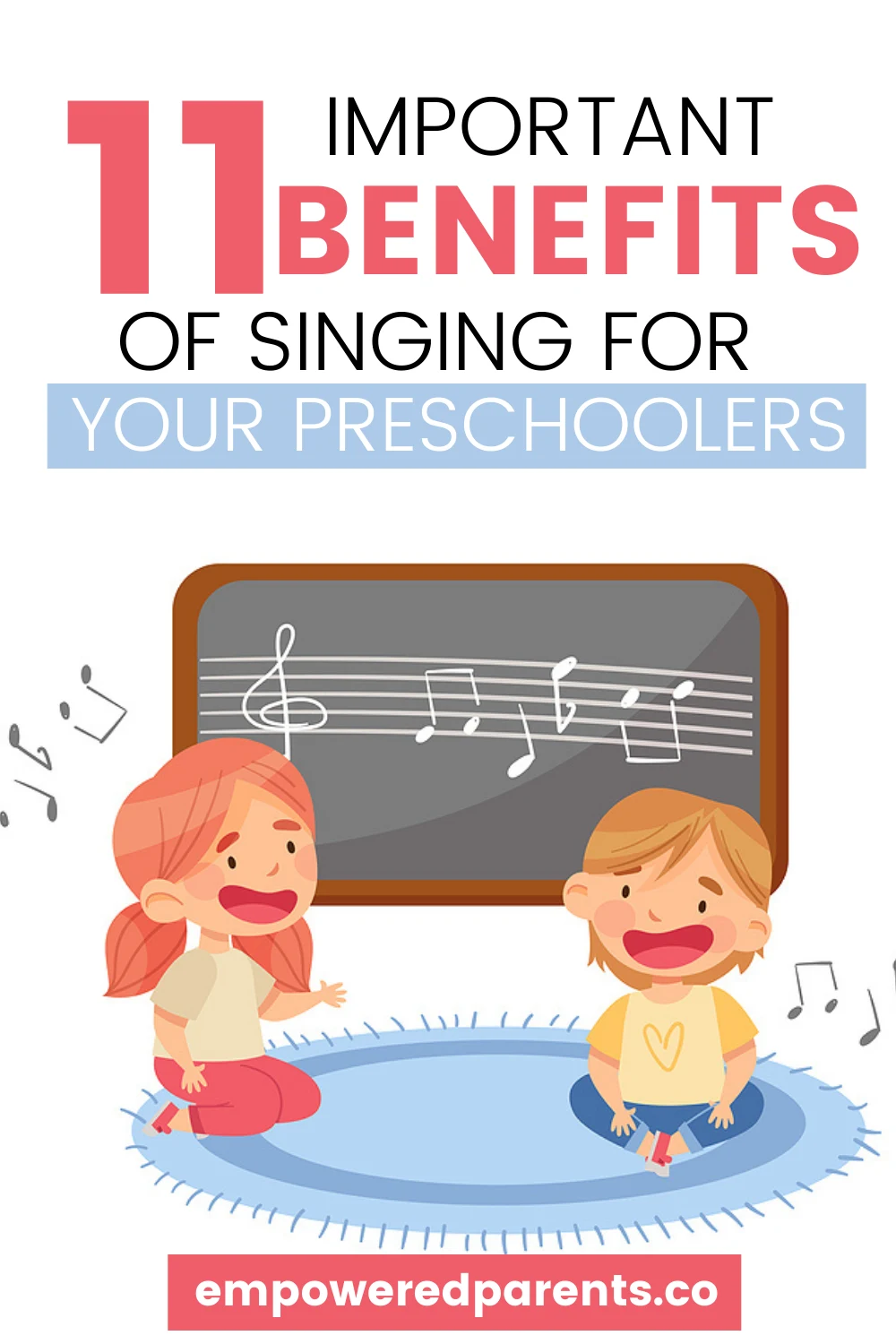 1. Vocabulary
Singing songs is a great way to build vocabulary in young children.
Children are exposed to a wide range of vocabulary and topics through songs, much of which they may not hear in everyday interactions with others.
Even babies, who do not yet understand the words, benefit from listening to songs, as they slowly pick up the sounds that are part of their mother tongue and eventually learn to distinguish the words and phrases.
Children who listen to stories and sing songs and rhymes will develop a far greater vocabulary than those who do not. [source]
2. Language
It's not just words that kids pick up from singing – but the entire language structure.
Through songs, children are exposed to the grammar of a language as well as sentence construction and word order.
They also build a knowledge of the parts of speech, such as descriptive language (adjectives) and action words (verbs).
3. Teaching Concepts
Teaching kids songs can be a great way to introduce new concepts or topics, such as using counting songs to help children understand the concept of numbers that increase or decrease in order.
You can use songs to share knowledge and concepts to go along with your preschool themes, such as ocean songs or animal songs.
4. Health and Wellbeing
Songs can be good for a child's physical development as well as their emotional development.
Research shows that there are physiological benefits of singing for children. Singing is good for the respiratory muscles and optimizes breathing. It energizes and provides a physical workout. [source]
It also causes hormonal changes, regulating oxytocin, immunoglobulin A and endorphins, which improves the functioning of the immune system and increases feelings of happiness in children. [source]
5. Gross and Fine Motor Coordination
Movement songs and action rhymes can get kids to use their large muscles, thus building their gross motor skills.
Fingerplays, on the other hand, are great for building the fine motor muscles in the fingers.
6. Listening Skills
Learning songs is a great listening activity. During an action song such as "If you're happy and you know it," kids need to listen for the actions, so they can perform them.
They also listen to the words of the song or listen for when the chorus is coming so they can join in.
All of these help develop listening skills, which are important for coping at school and developing good reading skills. It also helps build their concentration span.
7. Auditory Memory
Listening to the words of songs and learning to sing them strengthens a child's auditory memory.
While young toddlers start off remembering simple lyrics such as "twinkle, twinkle, little star", with time and practice they learn to memorize longer, more complex verses.
Memory is a necessary skill for learning to read and can be built easily with songs, rhymes, listening activities and memory games.
8. Sequencing
Children must not only learn to remember what they hear but also be able to recall it in sequence. This is also part of learning to read.
By singing songs, children are exposed to sequences such as numbers increasing or decreasing in a counting song, or singing about a sequence of events.
These are a few examples of songs that contain a sequence of events:
Miss Polly had a dolly
Five little ducks
This little piggy
Head, shoulders, knees and toes
The ants go marching
This old man
They often have to memorize a sequence of actions that aren't necessarily in a logical order – such as in the song "We're going on a bear hunt" or "If you're happy and you know it". This helps build sequential memory.
9. Sound Patterns and Rhyming
The basis of learning to read and spell is to understand sound and to be able to hear sounds in words. This is part of a child's auditory perception.
A young baby has his ears trained over time to hear the sounds that are a part of his language.
When he is older, he can integrate sound with visual representations of sound (letters and words) and decode them to read and spell.
This makes singing an excellent pre-reading activity as you are developing a perception of sounds in your kids when you teach them songs.
Songs that have rhyming words, nonsense words and repetitive words are particularly good for this.
Being exposed to rhyming words is one of the ways children learn to hear patterns, a skill they will rely on when reading.
10. Confidence
Singing is a joyful activity and one that gives kids a sense of competence. It is difficult to "do it wrong" and so kids experience the activity as successful.
Young kids need validation and they need to feel that they are capable. Any activity that a child feels she has succeeded in, boosts her self-confidence.
Singing also teaches kids to use their voice, to be heard and to express themselves – all qualities that boost confidence. A child who is singing is being heard and acknowledged.
11. A Helpful Tool
Singing is the kind of activity that can be used in many helpful ways and in a variety of contexts.
Think about the role of singing when used as a way to calm down active children, or when you sing nursery rhymes about sleep as kids drift off at night.
Music can also be used to lift the mood and get kids to be more active and involved, such as while singing a movement song.
Need to motivate kids to tidy up? Sing some clean-up songs. What about teaching them to wash their hands properly? Use a hand-washing song!
As you can see, singing is about so much more than just having fun. Read more about the benefits of music in early childhood.
Get FREE access to Printable Puzzles, Stories, Activity Packs and more!
Sign up and you'll receive a downloadable set of printable puzzles, games and short stories, as well as the Learning Through Play Activity Pack which includes an entire year of activities for 3 to 6-year-olds.
Access is free forever.
Signing up for a free Grow account is fast and easy and will allow you to bookmark articles to read later, on this website as well as many websites worldwide that use Grow.