Looking to develop your child's social skills, or their ability to manage their feelings? Fun social-emotional activities for preschoolers can be carried out at home to support their learning in this area.
What is Social-Emotional Development?
Social-emotional development is the process of learning skills that we need in order to make and maintain relationships, feel good about ourselves and function within society. Many of these skills are learned during play.
These skills include communication, co-operation, recognizing and managing emotions, and controlling behaviour.
A child's social and emotional skills are an important aspect of their holistic development.
What Does Normal Social-Emotional Development Look Like?
The short answer is that it's different for every child! As with all other areas of learning different children will progress at different times.
On the whole, most children are interested in other people and even young babies will watch people's faces with great interest.
As they get older, toddlers become especially interested in other children and their play, but only begin to play co-operatively as preschoolers.
Prior to this, children may play next to each other or in the same area but be very much absorbed by their own play.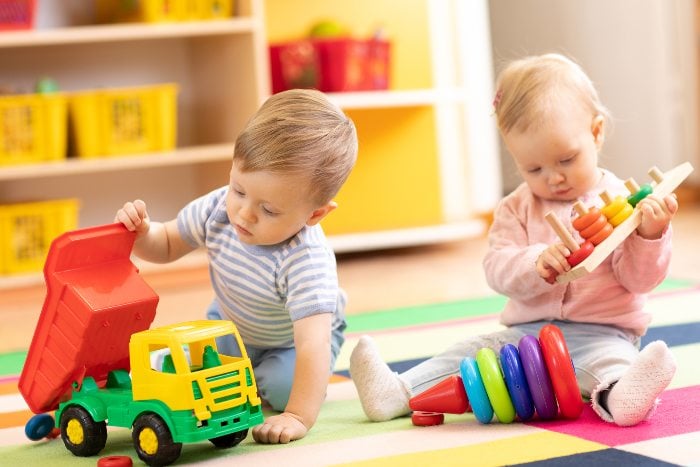 As social-emotional learning progresses children learn to play co-operatively, and then begin to develop a narrative for their play, sharing ideas and negotiating over what comes next.
When it comes to emotional development, to a certain extent this will be built upon your child's natural temperament.
Even from the earliest stage babies have their own unique competencies and individual traits.
Some of these can be picked up by professionals using tools such as the Newborn Behavioural Observation System (Nugent et al 2007), but most parents are able to make their own observations about their child's preferences and 'temperament'.
Temperament is a set of inborn traits that organize the child's approach to the world; they are part of the development of personality. Temperament is not necessarily good or bad in and of itself.
For example, being energetic is neither a good or bad thing by itself, but could be seen as either good or bad depending on how it is channelled.
Working with children's temperaments is important when developing emotional skills, some children have 'bigger' emotions or 'deeper' feelings than others, and these may be harder for children to manage.
It might take these deep feeling children longer to develop strategies to manage their behaviour as a result of these emotions, but these children are also likely to become passionate and empathetic so it is important not to stifle their feelings, and instead work at finding strategies for expressing them appropriately.
7 Social-Emotional Activities for Preschoolers
Here are some simple but fun activities you can do with young children to build these skills.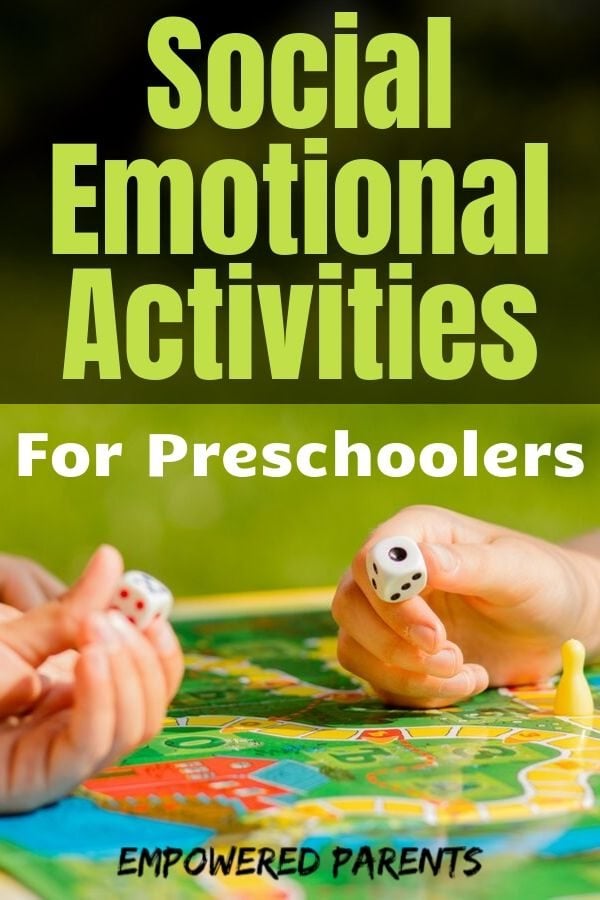 1. Ball Games
Ball games are a relatively simple way for younger children to build relationships. Co-operatively rolling a ball back and forth is a rudimentary way of initiating play and turn-taking.
For older children, they can play in a larger group and say each other's names before rolling the ball, practicing initiating play verbally.
2. Roleplay
Roleplay is a great way for children to experiment with social behaviour, rules and expectations. Children often enjoy acting out what they know, such as cooking and eating dinner together, but also experimenting with risky social scenarios such as games of cops and robbers.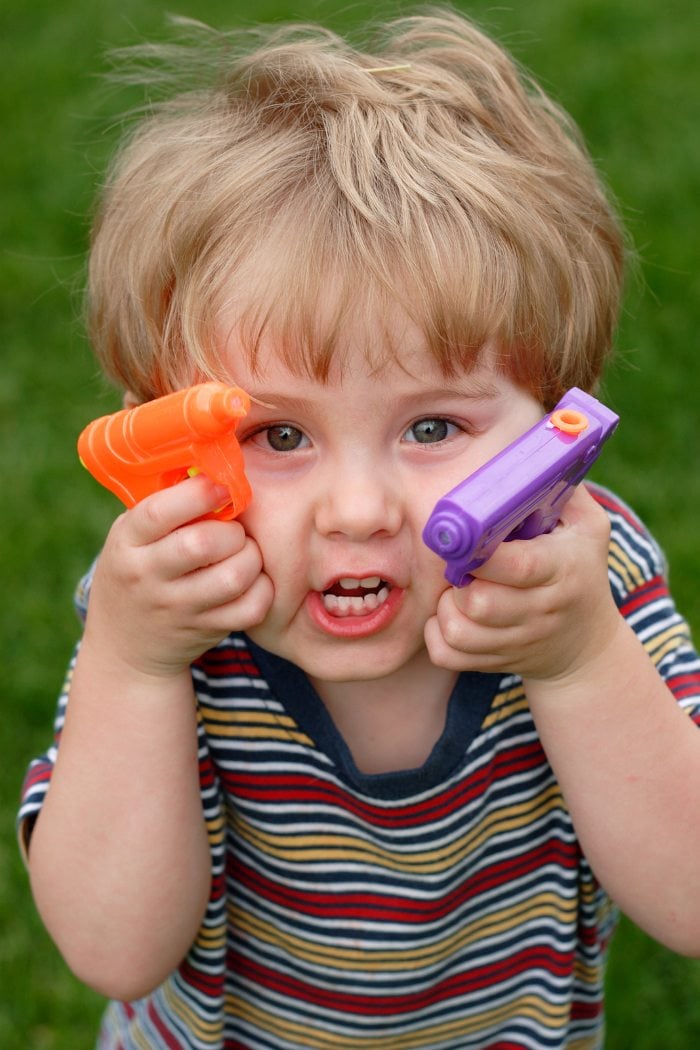 Roleplay is a safe space for children to develop social skills, though to begin with they may need guiding through the narrative. After a while though children will begin to develop imaginative scenarios that allow them to work on their social-emotional skills through play.
This post contains affiliate links for educational products that I personally recommend. If you purchase through one of them, I earn a commission at no extra cost to you. Read the disclosure for more details.
3. Stories
Reading has a huge range of benefits, including social-emotional benefits.
Reading a story with emotional content, and discussing it with your child gives them the opportunity to develop empathy, as well as tools to use in their own experiences of emotions. You might ask; "Why did the character get angry? What makes you get angry?"
This little box set of life skills stories is a gem of a find and will make a valuable addition to your library.
4. Puppets
Similar to stories and role play, using puppets to act out social situations and emotions is a good way to develop children's recognition and understanding of emotions as well as explore ways for managing social scenarios and feelings.
Buy a set of puppets or make your own DIY puppets.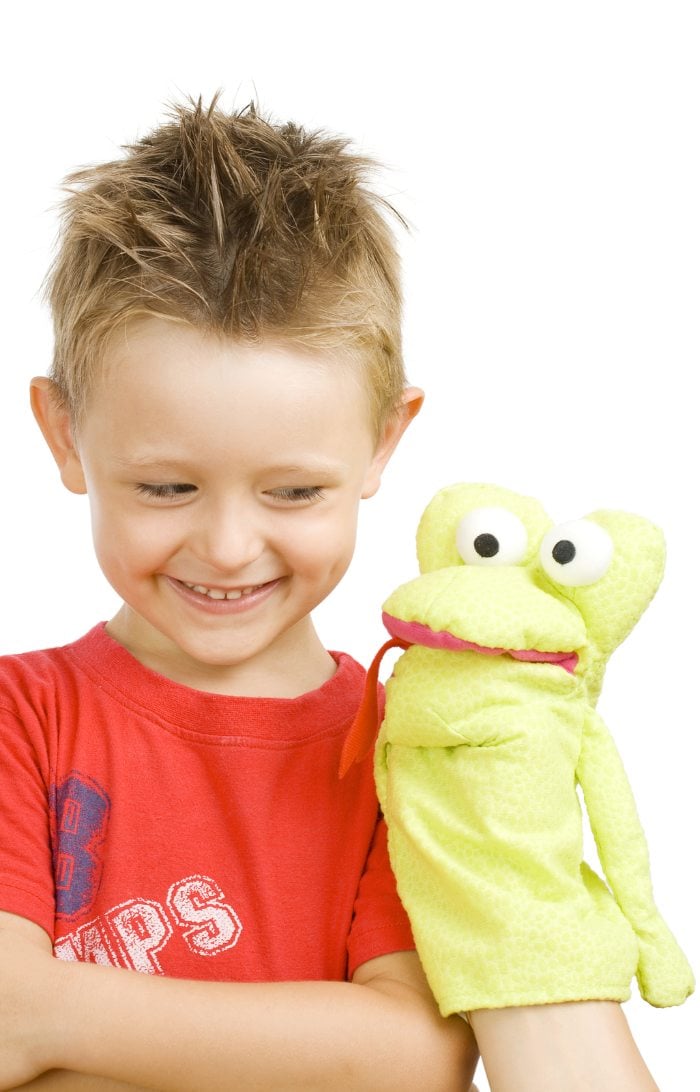 5. Listening Games
An important part of social-emotional development is the ability to recognize, understand and respond to appropriate boundaries and behavioural expectations.
Helping your child to listen carefully to instructions and change their behaviour in response to this will improve their social-emotional skills as well as listening, attention and focus.
Games like "Simon Says" and "Red light, Green light" allow children to practice listening carefully, following instructions and changing their behaviour in line with expectations. Here are some more listening games to play.
6. Games
Games that can be played as a family are an ideal way for children to experience turn-taking, as well as winning and losing and the emotions that are involved in both.
With so many educational games on the market for preschoolers, children can work on a whole host of skills through playing games. Encourage children to follow the rules, take turns, and keep play friendly even when they are frustrated.
Purchase educational games like Tic Tac Toe, Dominoes or play popular card games such as Rummy and Memory Card Games (get your own printable set in the store).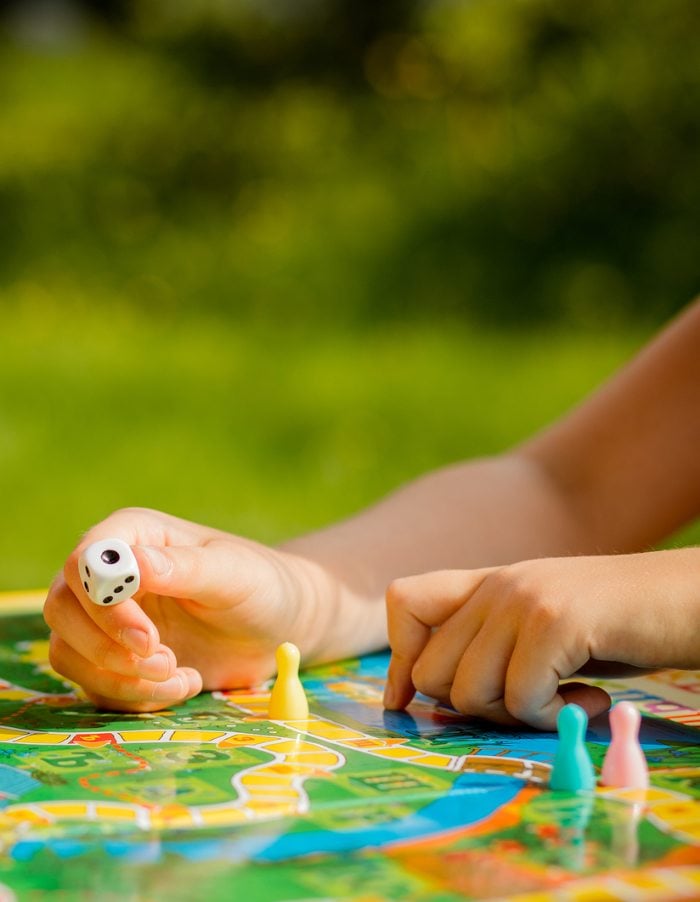 7. Sports
Encouraging an active lifestyle through playing sports is valuable in and of itself but sports also offer fantastic opportunities for social-emotional development.
Sports that are played as a team such as football or basketball are especially encouraging of social development. In playing as a team, children begin to understand that their actions have an effect on others, and that humans rely on each other.
Team sports are also by nature competitive; as teams there is often a level of conflict whether a difference of opinion on tactics, or losing a game. By learning to deal with these situations children develop resilience and learn to manage their emotions and behaviour.
Team sports also place value on fair-play and good sportsmanship which are expressions of social-emotional development. The focus on playing fairly teaches children to respect the Rule of Law and authorities like the coach or referee.
Using these fun social-emotional activities for preschoolers at home will help to develop their skills. If your child attends a preschool, nursery or playgroup then their teachers will also be working on developing these skills.
Here are more feelings activities for preschoolers that introduce specific emotions.
Remember, just as with other areas of development different children will develop different skills at different stages but if you are worried about your child's social-emotional development then do talk to an educator or health professional.
---
Would you like a year of done-for-you, ten-minute activities to teach your 3-5-year-old through play? Get your copy of the Learning Through Play Activity Pack for only $27.