Puzzles are one of the most educational toys but there is such a variety of different types, you may be wondering which are the most appropriate and beneficial for your toddlers at home or school.
Here is a breakdown of the best puzzles for toddlers between the ages of 1 and 3 years.
There's no need to buy every puzzle you see or multiple of the same type for very young children. A few, well-chosen puzzles that increase in difficulty can be all your child needs.
I have linked some examples of the different types of puzzles from Amazon, but most of these can be found in educational shops or other online stores.
At the end of the post, there is also a link to download my free printable jigsaw puzzles. These are fun to add to your collection but shouldn't replace real puzzles, as kids need to handle proper puzzle pieces.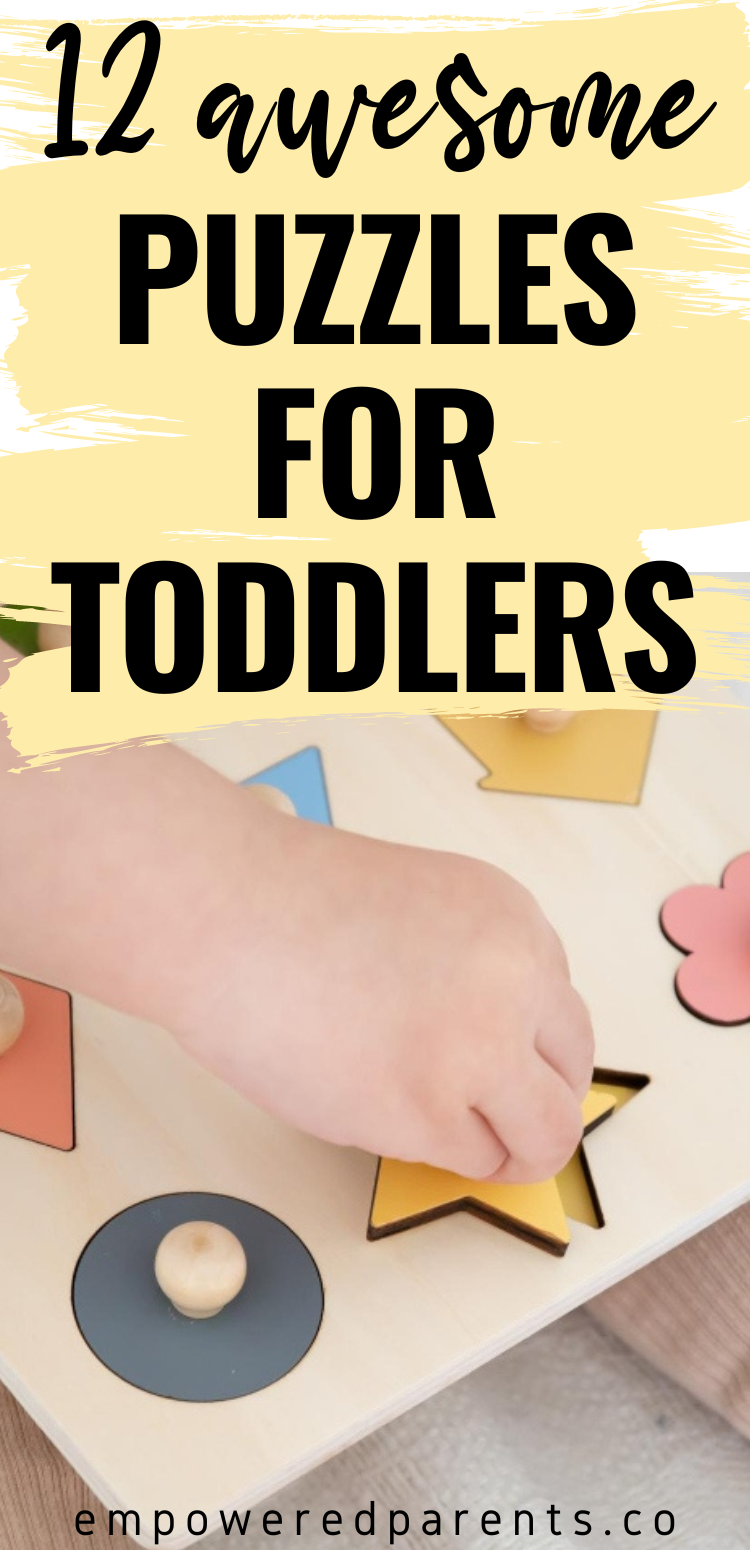 What Kinds of Puzzles Can Toddlers Do?
If you're wondering what kind of puzzles a 1 or 2-year-old should do, the answer is it varies for each child.
There is a big difference in maturity level between a 1-year-old and a child who is almost 3. There is also a difference among children of the same age as they are focusing on different skills, and have varied strengths, interests, etc.
In general, though, they follow roughly the same pattern of development and will all master a peg puzzle before a 12-piece puzzle, for example.
There are a few types of puzzles toddlers enjoy doing and they are all educational:
Peg puzzles
Shape sorters
Chunky wooden puzzles
2, 3, 4, 8 or 12-piece jigsaw puzzles
Cube puzzles
Puzzles with wooden boards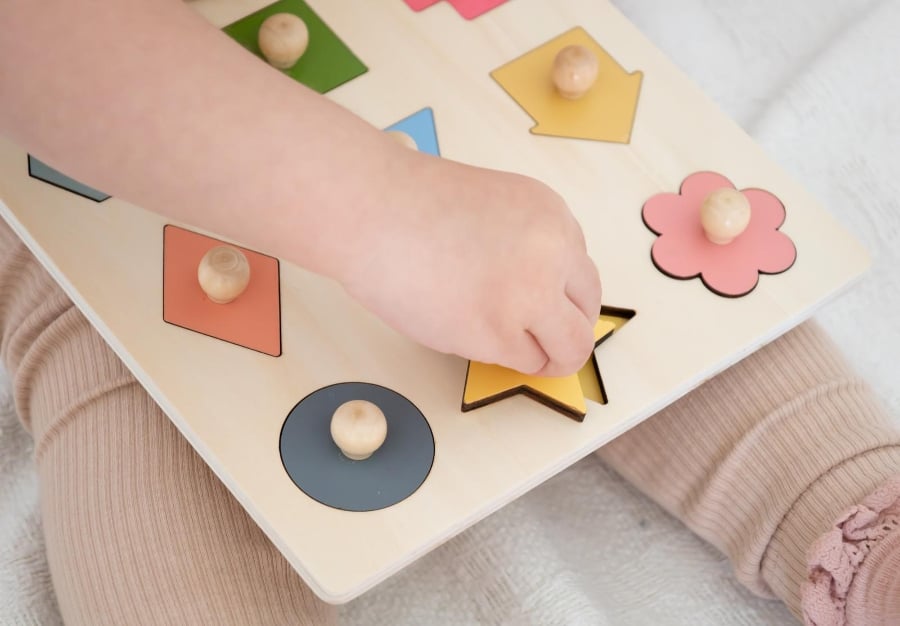 Here are a few guidelines for choosing the most suitable puzzles for your kids' level:
Puzzles should always be slightly challenging but doable. Any puzzle that is too difficult or time-consuming will become frustrating and demotivating.
The younger the child, the fewer the pieces.
Give children time to master a favourite 2-piece or 4-piece puzzle before introducing more of the same type.
Choose puzzles with pieces that small fingers can properly handle and that will help them develop their fine motor skills.
Do not push children or become frustrated with them for placing pieces incorrectly, attempting to join pieces with sheer force, or not turning the pieces the right way. They will develop the visual perception and fine motor control needed with time and lots of practice.
Sturdy, wooden puzzles are always better than flimsy, cheap puzzles. They are also easier to learn with.
Why Should Toddlers Do Puzzles?
Puzzles are important for toddlers' development in many ways – they develop skills such as fine and gross motor coordination, visual perception and shape recognition, attention span, perseverance and much more.
Read about the benefits of puzzles in early childhood.
The Best Puzzles for Toddlers
Here are some of the best puzzles for toddlers, separated by type.
This post contains affiliate links for educational products that I personally recommend. If you purchase through one of them, I earn a commission at no extra cost to you. Read the terms and conditions for more details.
Peg Puzzles
Simple wooden peg puzzles with pictures or shapes on them are the best starter puzzles. They have a peg or knob on them for toddlers to hold onto.
You can also find these without the pegs, but they are chunky enough for little hands to handle them well.
Specifically looking for number or alphabet peg puzzles isn't necessary – any shapes will do. Toddlers will be learning how to handle pieces, how to place them gently into their spaces and recognize the pictures and outer shapes – they are not really going to be learning numbers or shapes from their first puzzles.
Shape Sorters
Here is a sorting cube. Toddlers have to push the 3-dimensional shapes through the right space.
My daughter received this one as a gift and loves sorting the animals and putting them in their farmhouse.
A sorting and stacking toy is also a good option for learning to sort shapes and fit them onto the pegs.
2-Piece and 4-Piece Puzzles
No one makes better puzzles than Melissa and Doug, in my opinion. They are sturdy and easy to handle.
Here are some great puzzles for 2-year-olds.
This is the only set of 2-piece puzzles I bought my daughter and she loved them and did them repeatedly until she mastered them.
After that, I gave her this 4-piece puzzle set which she played with for a few months.
These are great because they have a background board which helps children to match the edges and colours.
These kinds of chunky puzzles are also an option and have around 4 or 5 pieces usually.
More Challenging Puzzles
I find there's a big leap in cognitive understanding and fine motor skills needed to start attempting puzzles with more pieces.
I also haven't found any good 6 or 8-piece Melissa and Doug Puzzles. They make good 12-piece ones but I think the jump is too big.
Try to find some puzzles in other ranges that have a few more pieces, until they are ready to attempt a 12-piece.
Then, go on to 12-piece puzzles. I have this set at home but putting out the whole box was overwhelming and confusing for my child so I only offered one puzzle at a time. As she got better at doing them I left two puzzles in the box and she learnt to sort them out.
From here, regardless of your child's age, keep increasing the number of puzzle pieces – to 24-pieces and 48-pieces – but only when they have mastered the number they're on and it no longer provides a challenge.
Most toddlers under the age of three won't be completing 12-piece puzzles on their own yet, but I have also taught some who were going onto 24-pieces. Follow your child's lead.
Mix and Match Puzzles
These fun mix-and-match puzzles are also educational and super fun. Your kids will enjoy dressing these bears in different outfits.
Printable Jigsaw Puzzles
If you'd like to add some printable puzzles to your collection, there is a downloadable set of educational printables below. It also includes memory card games, stories and more.
You'll be asked to sign up for a free Grow account, which you can use to bookmark your favourite articles and save them to read later.
These are not the only types of puzzles available but you don't need to purchase every single type to give kids enough practice doing them. Choose a few good ones. Kids will also get exposure to other ones at home, school, friends' houses, etc.
Here is a list of the best puzzles for preschoolers.
Get FREE access to Printable Puzzles, Stories, Activity Packs and more!
Join Empowered Parents + and you'll receive a downloadable set of printable puzzles, games and short stories, as well as the Learning Through Play Activity Pack which includes an entire year of activities for 3 to 6-year-olds.
Access is free forever.
Signing up for a free Grow account is fast and easy and will allow you to bookmark articles to read later, on this website as well as many websites worldwide that use Grow.