Puzzles are great educational toys for kids. With such a variety of different types available, you may be wondering which are the most suitable and beneficial for your preschoolers at home or at school.
Here is a breakdown of the best puzzles for preschoolers between the ages of 3 and 5 years (find the best puzzles for toddlers here).
While you may need to get a few sets of the same type of puzzle to have enough for a classroom, if you are buying for your kids at home it's not necessary to buy lots. A few, well-chosen puzzles that increase in difficulty and develop different skills can be all your child needs.
There is also no obvious answer to which are the best, but I like to offer a variety of different types to challenge kids. These are my favourites for preschoolers.
I have linked some examples of different types of puzzles from Amazon, but most of these can be found in educational shops or other online stores.
Below, there is also a link to download my free printable jigsaw puzzles. These are fun to add to your collection but shouldn't replace real puzzles, as kids need to master how to join physical pieces.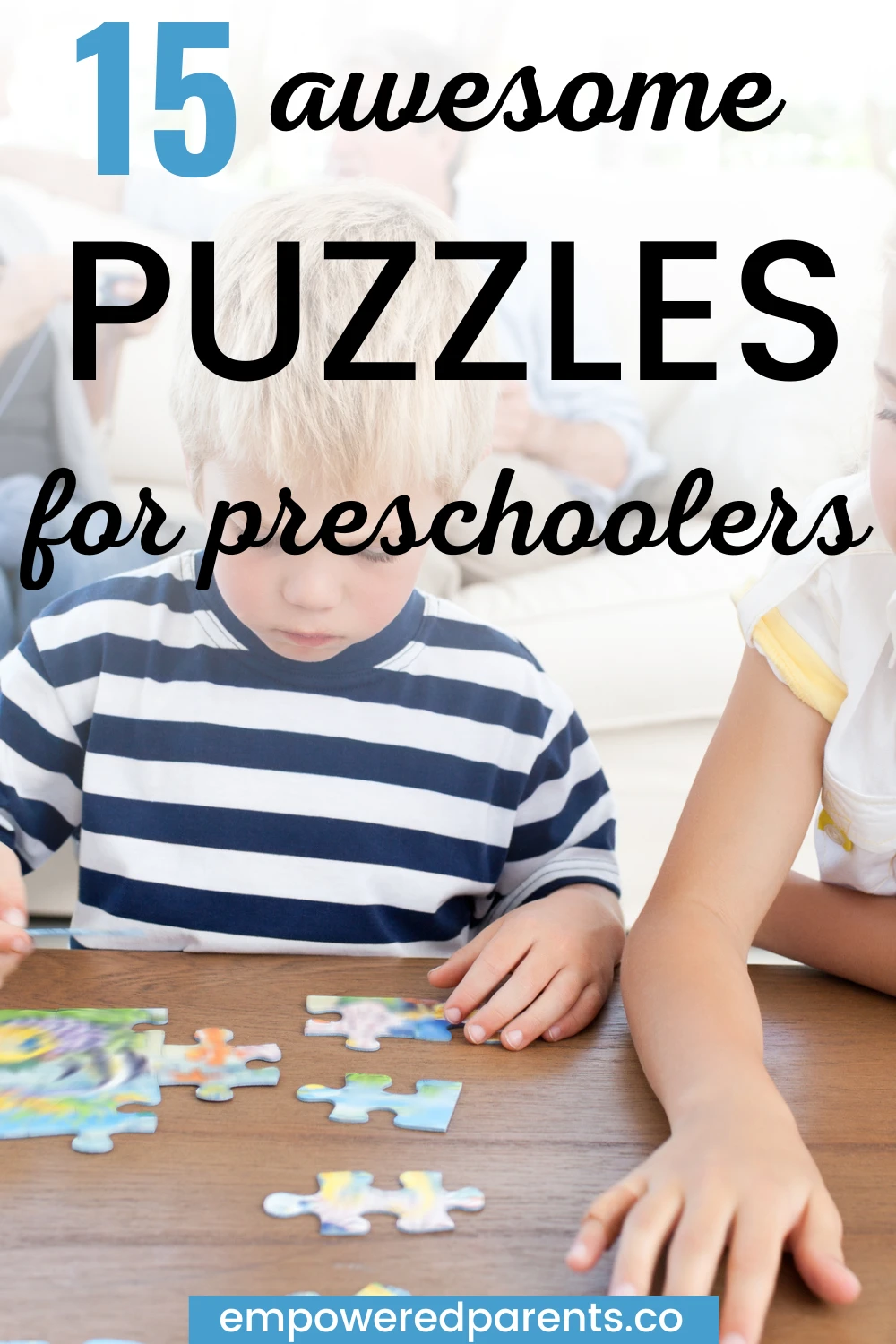 This post contains affiliate links for educational products that I personally recommend. If you purchase through one of them, I earn a commission at no extra cost to you. Read the terms and conditions for more details.
What Kinds of Puzzles Can Preschoolers Do?
If you're wondering what kinds of puzzles a 3 or 4-year-old can do, the answer is it depends on the child.
There is lots of info online suggesting the number of pieces your child "should" be on, which can make you question if your child is behind.
For example, my own daughter wasn't doing a 12-piece when she was 3 and neither were many of the kids I taught of that age, but some could do a 24-piece.
What's important is not what the averages say, but rather that you give children exposure to puzzles that are appropriate for their level and ability.
They should be steadily progressing and increasing the number and type they can do as they grow.
There is a range that is fairly normal though, so your 5-year-old should not still be struggling with a 12-piece, for example.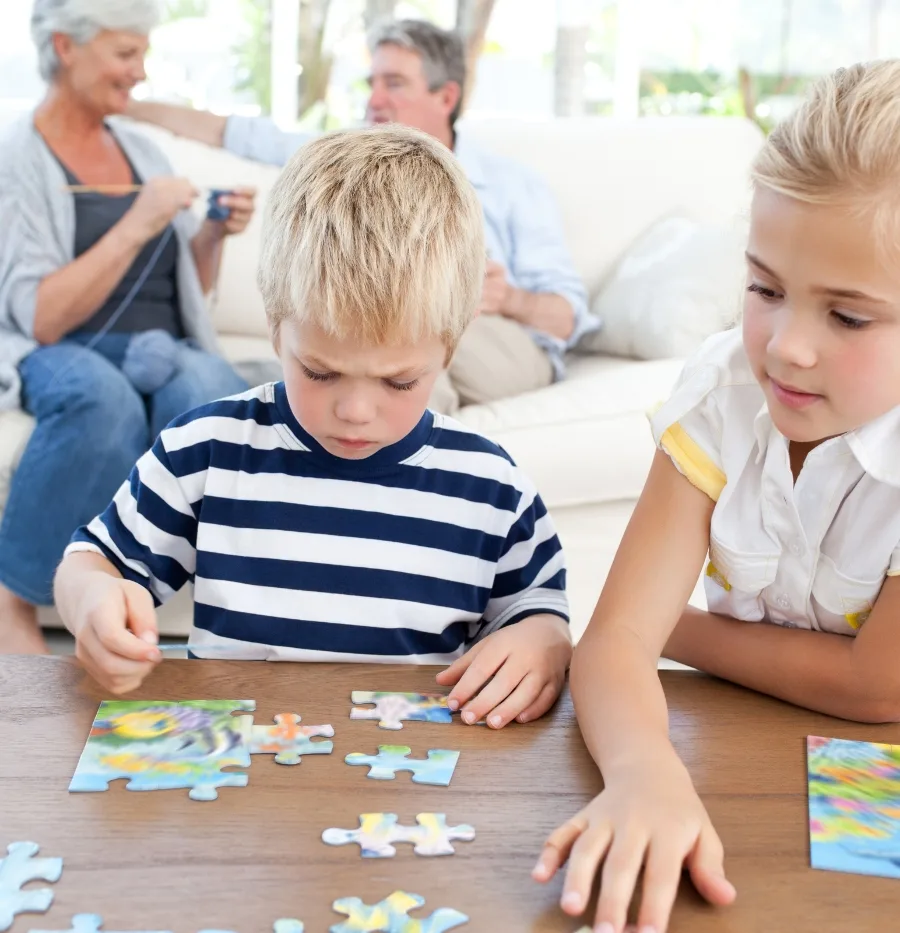 Generally, preschoolers move past peg puzzles and basic 2 or 4-piece puzzles and start putting more pieces together.
A 3-year-old may still be mastering a 6 or 8-piece, and a 4-year-old may get to a 48-piece puzzle.
My daughter found the jump from her favourite 4-piece puzzles to 12-piece puzzles very big. She spent a few months doing her puzzles with 6 or 9 pieces before moving on to 12 pieces.
Tips for Choosing Puzzles
Here are a few guidelines for choosing the most suitable puzzles for your kids' level:
Sturdy, wooden puzzles are always better than flimsy, cheap puzzles. They are also easier to learn with.
Puzzles should be challenging but doable. Any puzzle that is too difficult or time-consuming will become frustrating and demotivating.
Offer a variety of puzzles – those with a wooden border, those without a border, cube puzzles, large floor puzzles, etc.
Puzzle sets with multiple pieces should have symbols on the back for easy sorting.
Why are Puzzles Good for Preschoolers?
Puzzles are important for toddlers' and preschoolers' development in many ways – they develop skills such as:
Perseverance
and much more.
Read about the benefits of puzzles in early childhood.
The Best Puzzles for Preschoolers
These are a few of the different types of puzzles for preschoolers from 3 to 5 years (and beyond).
Wooden Puzzles in a Tray
Good quality puzzles come with a sturdy, wooden tray. I find the Melissa and Doug puzzles are the best quality.
Choose the number of pieces suited to your child's level.
Some 3-year-olds are still working their way up to 12-piece puzzles and will need to start with fewer pieces. Older preschoolers may get to 48 pieces and beyond.
Here are some multi-piece puzzles.
These 12-piece puzzles come in a super handy box with a wooden lid to build the puzzles on. They are marked at the back for easy sorting.
These 20-piece puzzles are also a good option because the picture is on the border too, which helps kids to match the colours and images as they fit the pieces.
Any of the 24-piece puzzles in this range are great puzzles for preschoolers.
To challenge those who are ready, move on to a 48-piece puzzle.
Cube Puzzles
Challenge kids with a cube puzzle. They will also be building their problem-solving and sorting skills as they first turn all the cubes onto the picture they want to build – such as the sheep or the cow.
Cube puzzles have multiple puzzles in one, and in a 3-dimensional format. They should also have a wooden tray to contain the pieces neatly.
Floor Puzzles
Floor puzzles have large pieces and are good for developing gross motor skills as well as fine motor skills.
Here are a few great ones.
Here's a stunning 48-piece puzzle.
Number and Letter Puzzles
These are more suitable for older preschoolers who are able to associate numbers with objects, or letters with sounds.
Here are some basic number puzzles.
This is a giant number floor puzzle.
Here are some self-correcting wooden alphabet puzzles with a storage box.
This is the alphabet floor puzzle from Melissa and Doug.
Geographical Puzzles
I am going to add puzzles of the world to this list purely because I think this is a super hands-on and visual way to learn about the countries.
This is a puzzle your kids can keep for years after preschool (it's probably a bit too advanced for preschool). You could also get a map of the country you live in.
Your kids will be learning about the world throughout school, so instead of making them memorize the country names and positions, why not let them learn without it feeling like work?
As a person born in South Africa, I can't tell you how many times I have been abroad and had someone ask me where South Africa is, or whether it is in Australia!
It's a good idea to teach your kids that there's a whole world out there beyond where they live.
Here are two options that are not too advanced.
Printable Jigsaw Puzzles for Preschoolers
If you'd like to add some printable puzzles to your collection, there's a downloadable set of educational printables below. It also includes memory card games, stories and more.
You'll be asked to sign up for a free Grow account, which you can use to bookmark and save your favourite articles to read later.
These are not the only types of puzzles available but you don't need to purchase every single type to give kids enough practice doing them. Choose a few good ones. Kids will also get exposure to other types of puzzles at school, at home, at friends' houses, etc.
Get FREE access to Printable Puzzles, Stories, Activity Packs and more!
Sign up and you'll receive a downloadable set of printable puzzles, games and short stories, as well as the Learning Through Play Activity Pack which includes an entire year of activities for 3 to 6-year-olds.
Access is free forever.
Signing up for a free Grow account is fast and easy and will allow you to bookmark articles to read later, on this website as well as many websites worldwide that use Grow.