Language development is a vital part of communication in the early years.
Children start learning language very early on in their development. Those funny cooing noises parents make to their babies are the first steps along the road of language development.
During the early years, children must develop both their receptive and expressive language.
In this article, I will share some great language activities for preschoolers. Whatever language your child is learning, the same principles apply.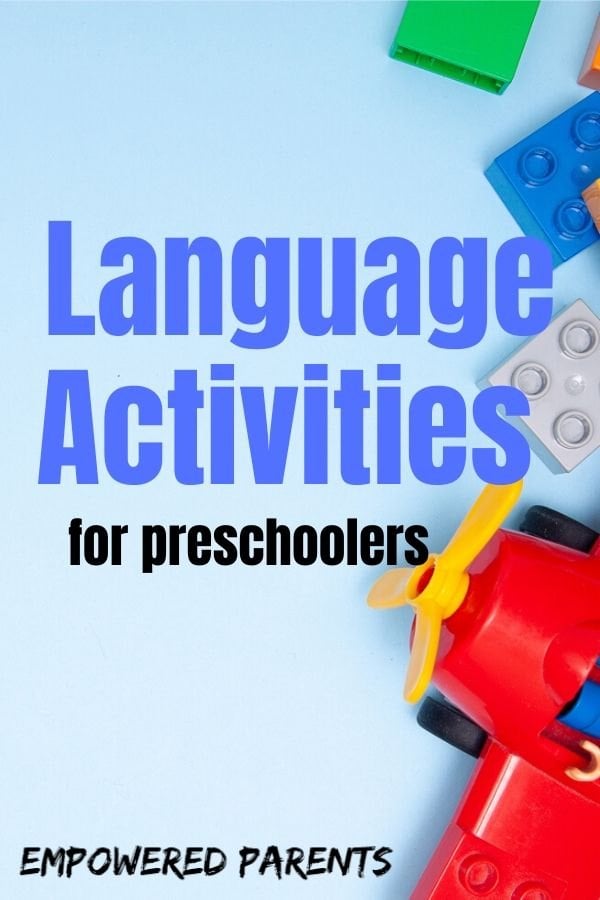 How to Develop Language Through Activities
Language is something children acquire as they grow and learn. The best way to develop language is through interaction.
The way to interact with your children is to spend time with them and the best learning opportunities are found during play.
This post contains affiliate links for educational products that I personally recommend. If you purchase through one of them, I earn a commission at no extra cost to you. Read the terms and conditions for more details.
15 Interactive Language Development Activities for Preschoolers
Here are 15 activities to help develop language skills. Watch this video for a summary of the activities or read them below.
1.

Storytelling
Books and telling stories are one of the best ways to encourage language.
Read age-appropriate stories or just tell the story through the pictures. Start early book experiences with board books and use sensory books to encourage your child to touch and feel items in the pictures.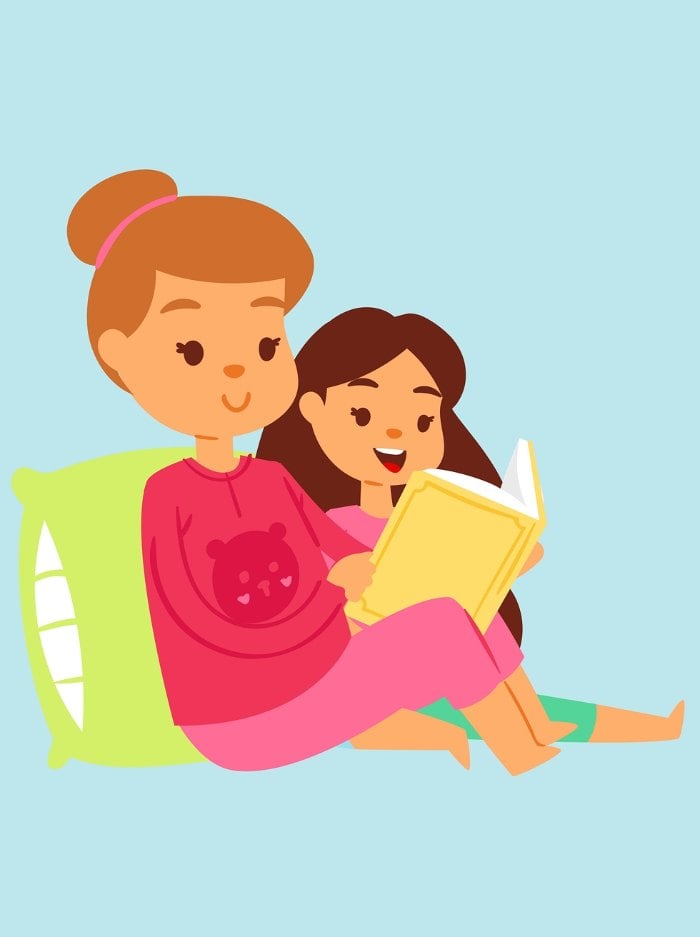 My absolute favourites – and most educational – are all the books by Julia Donaldson and Dr. Seuss.
There is no end to the avenues you can explore, and the language you can develop, through books.
2.

Baking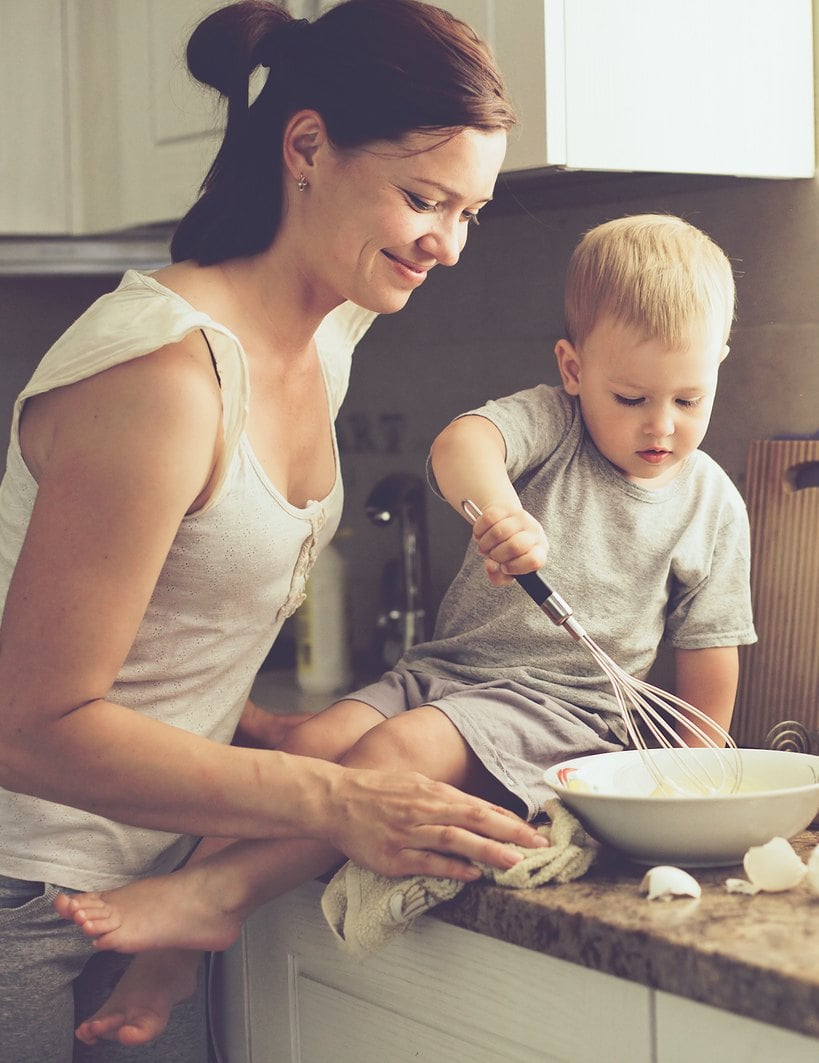 The kitchen offers many language opportunities. Here is a chance to encourage language development while you make something delicious to eat.
Counting, weighing, and measuring are all part of a baking experience.
Baking cookies with soft dough to roll and cut out is probably one of the best baking activities for preschoolers. After you have baked your cookies you can get creative and decorate with icing and sprinkles.
Finish off your 'baker baker' session with a tea party and share your cookies with the rest of the family.
3.

Construction Toys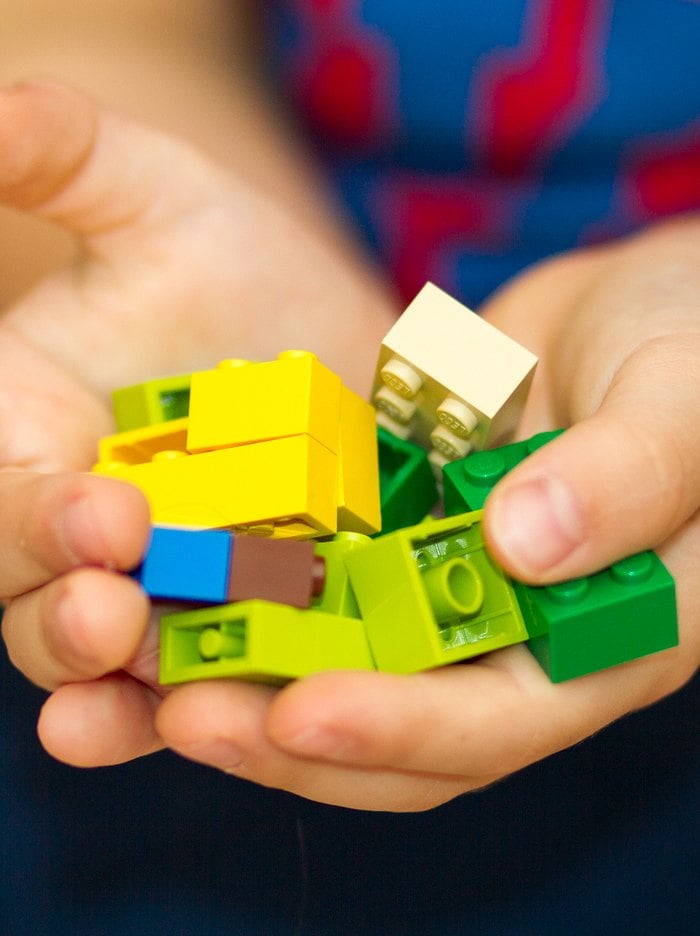 Choose construction toys that are age-appropriate. Lego is one of the best toys (here's a great set), but perhaps your young preschooler is more comfortable with blocks.
Choose a good quality set of wooded blocks. Block play is a vital part of learning.
Construction toys give you an opportunity to talk about size and shape. Use construction toys to follow instructions and build towers or castles. Then play with what you have built.
4.

Musical Games
Children love moving to music and playing musical games.
Here are some ideas:
Play songs to dance to and clap hands to the rhythm
Play musical statues and sing along to the music
Bring out percussion instruments if you have them
Make your own shakers with beans in a container
Learn about sound – loud and soft, fast or slow and happy or sad songs
Singing well-known songs helps develop language too
5.

Dressing Up Box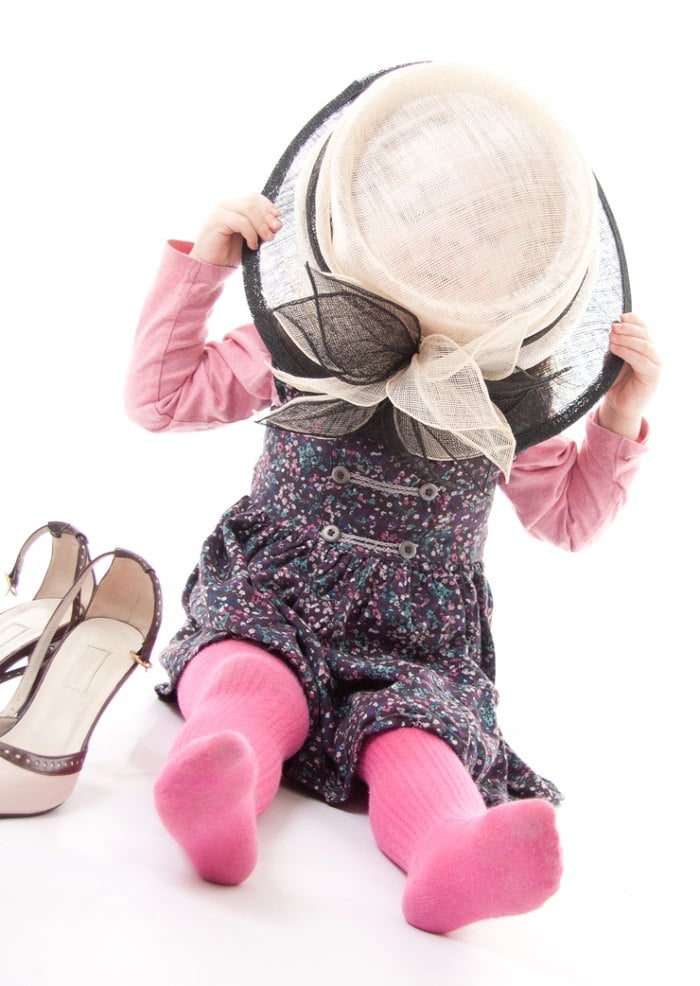 A collection of dressing up clothes will encourage fantasy play and role play. Children can pretend to be someone else and use new vocabulary in their imaginative role.
Find old hats and shawls at charity shops or visit party shops for wigs and funny masks. Join in the fun yourself and get dressed up.
6.

Picture Books
Picture books and non-fiction books provide great opportunities for developing language.
Many picture books relate to specific themes. Looking at a page about the farm, for example, teaches a variety of vocabulary related to farms.
Find out what your child is interested in. Look out for different themes and encourage pointing to and saying the names of the pictures.
Some picture books are puzzle books with hidden items in the pictures or spot-the-difference pictures. These picture books encourage observation skills as well as language stimulation.
7.

Gardening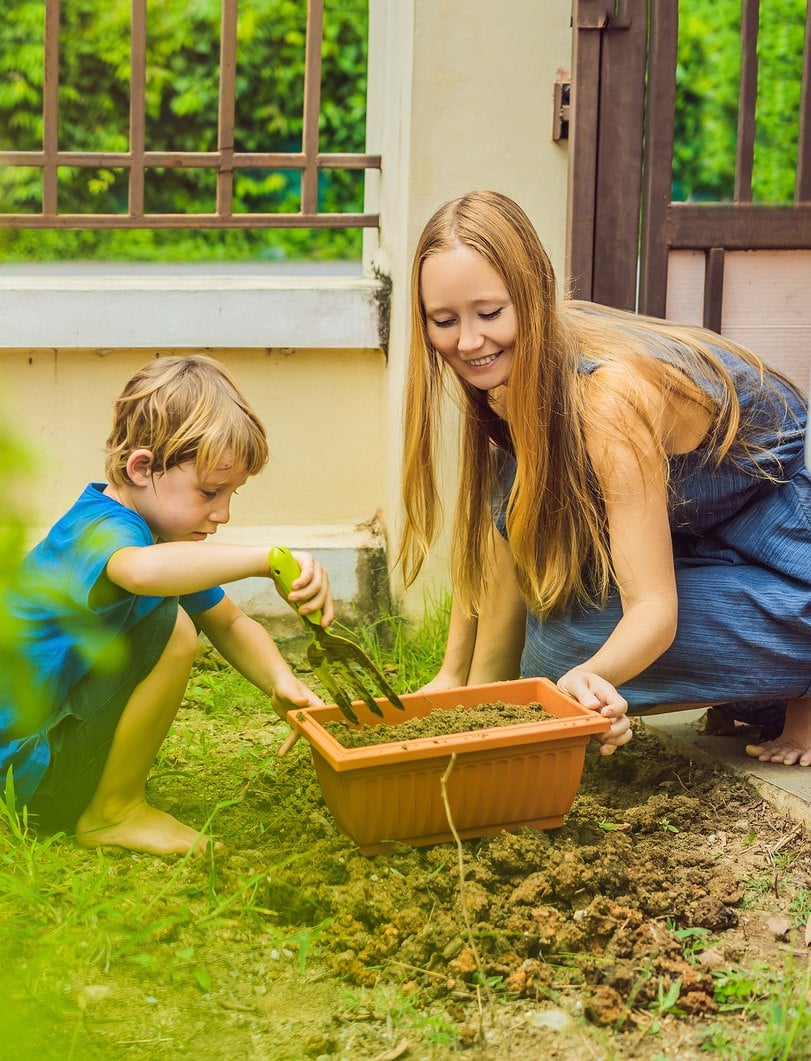 Getting out into the garden and appreciating nature is a great way to develop vocabulary. Learning about plants and nurturing plants are valuable life skills.
If you don't have access to a garden, then try growing something in a pot or grow some herbs in the kitchen. A visit to a park or nature reserve will encourage learning outdoor vocabulary.
8.

Puppet Shows
Playing with puppets and making up puppet shows is wonderful for language development.
Children feel free to talk through their puppet friends. Holding a puppet in each hand is an opportunity for a conversation between the two puppets.
Children love making up puppet shows. They can tell a favourite fairy tale using puppets and entertain the whole family.
Make your own puppets or use a set of hand puppets like these.
9.

Touchy–Feely Bags
This is a very good way to encourage children to describe objects.
You need a cloth bag to put small objects into so they are not visible. Choose things around the house like a small ball, a teaspoon, a pencil and so on.
The items are put into the bag and your child puts their hand into the bag to feel one of the items. Then the item is described to you. You have to guess what it is.
10.

Sand Play and Sensory Trays
Sensory vocabulary is developed through sand play and sensory trays. A sensory tray filled with different objects encourages language as your child touches and talks about items in the tray.
Choose things with texture and different sizes. Mix them up for sorting experiences. Look for things like buttons, corks, pebbles, pasta, blocks and lego.
A sandpit under a shady tree is always a talking point and an opportunity for digging, building and playing with sand toys.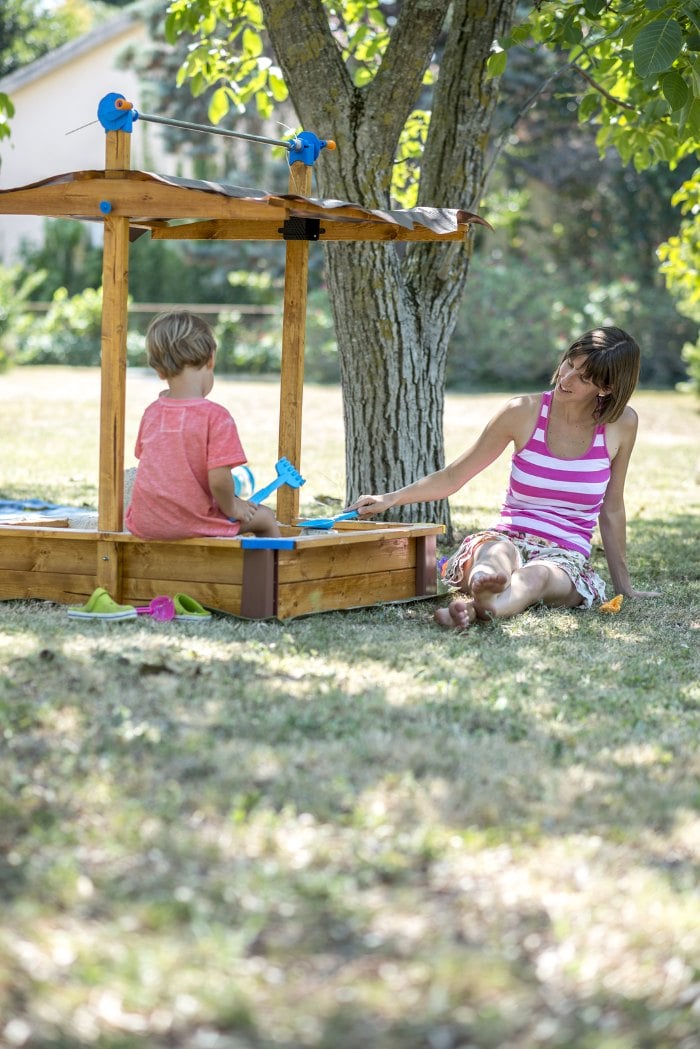 11.

Fun with Paper Plates
Paper plates are so versatile. They are readily available in different sizes and colours. There are many activities and crafts using paper plates. Have a pile in store for rainy days.
Keep a box of creative waste materials like stickers, glue, wool, felt pieces, old magazines, coloured licky sticky paper and markers and stamps. Let your child experiment with making masks and other creative crafts.
12.

Fantasy Play at Home
Creating fantasy scenarios at home really encourages language and helps children have different social experiences in the comfort of their homes.
Here are some ideas for fantasy play:
Set up a shop corner and play 'shop shop'
Have a tea party and invite a friend to dress up
Play having a wedding or party or just play 'house'
Join in to make it a language experience!
13.

Nursery Rhymes and Fingerplays
Saying rhymes and learning fingerplays helps to develop language through repetition and memorizing the words of the rhyme. Repetition is so important in learning a language.
If you are not familiar with the age-old favourites buy a CD or listen to songs on YouTube. Driving in the car is a perfect time to play nursery rhymes (and word games). Singing silly songs together will increase your child's vocabulary in an entertaining way.
14.

Painting
Children love to paint and it is a great opportunity to learn about colours. It can be messy, but learning to clean up adds another dimension to vocabulary development, especially if you use fun clean-up songs.
There are many different activities using paint. Try finger painting or printing with paint. There are more examples in this article about art activities. Painting a picture is a great way to help children express their feelings by discussing the picture.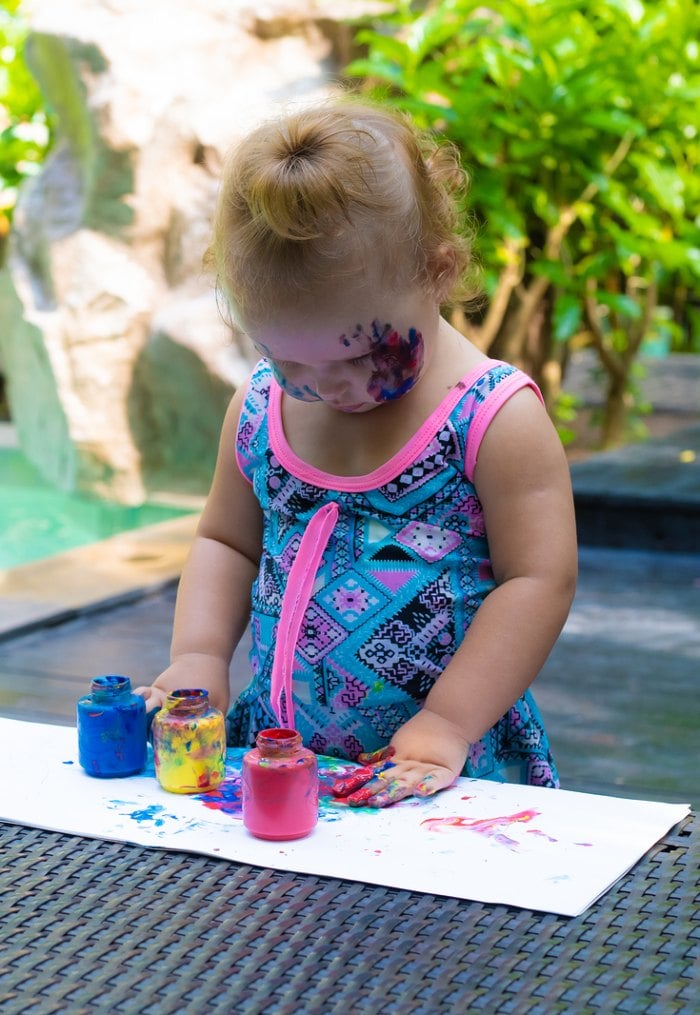 15.

Card Games
There are numerous card games available that encourage vocabulary development. Matching pairs (there's a downloadable set at the end of the post), snap, and happy families, are just a few.
Playing card games develops social interaction and vocabulary associated with the game. Before you begin the game check your child has the vocabulary to be able to use the cards.
Tips to Encourage Language Development
The key to language development is interaction and along with interaction comes encouragement. Here are a few tips to help encourage children as they develop language.
Pay attention to your child when they are talking to you
Praise good speech and vocabulary
Help with new words by repeating them
Add onto phrases or words and boost vocabulary (For example – Your child says "my ball" and you say "yes, your ball is a big ball")
Never make fun of mistakes – correct gently by repeating the sentence correctly
Use TV and screens sparingly
Check your child for ear infections
Talk about what you are doing as you go about daily chores
Be a good role model
The rate children learn new words is amazing. They are like little sponges soaking up every word they hear.
What a joy to be part of their language learning experience!
Get FREE access to Printable Puzzles, Stories, Activity Packs and more!
Join Empowered Parents + and you'll receive a downloadable set of printable puzzles, games and short stories, as well as the Learning Through Play Activity Pack which includes an entire year of activities for 3 to 6-year-olds.
Access is free forever.
Signing up for a free Grow account is fast and easy and will allow you to bookmark articles to read later, on this website as well as many websites worldwide that use Grow.