Need some fun shaving cream activities to try with your kids at home or in class?
Shaving cream sensory play offers a fun connection to several of the senses: touch, sight and smell. Also, shaving cream play benefits preschoolers in many other ways.
An unusual benefit of the cream is that it provides a "messy" yet clean play experience!
Shaving cream is also flexible. You can add colour if you like, or offer fragrance-free, scented or menthol shaving foam, depending on kids' preferences.
There are many ways to use shaving cream as an educational substance that reaches beyond art.
Kids can write on foamy surfaces, making it a great tie-in with language arts.
You can also plan many STEM activities with shaving cream, specifically in science and maths.
Push up your sleeves and check out the following fun shaving foam activities for kids!
1. Shaving Cream Painting
Squeeze shaving cream onto a tray such as a baking sheet pan. Children spread it around with fingers, plastic knives or craft sticks.
Then the adult or child squirts some washable liquid paint (one colour or several) onto the cream, either in a pattern/picture or just in several different spots.
Food colouring can also be used and squirted with a dropper, but make sure that kids' clothes are protected to prevent any staining.
With fingers or a paintbrush, children move the colours around to make designs and pictures. This creates a fun marbleized, swirly effect.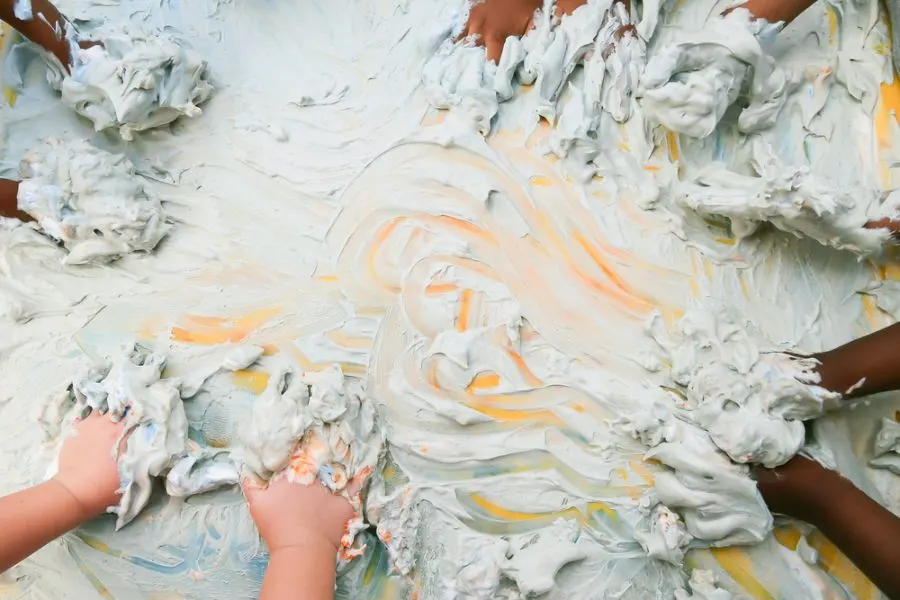 Try pressing a sheet of cardstock, printer paper or watercolour paper over the top of the shaving cream design.
After removing, just scrape the remaining shaving cream off with cardboard or a ruler, which leaves the paint design behind. Set aside to dry.
This is a great way to preserve a print of kids' artwork.
2. Shaving Cream Paper Cutouts
Once the prints from the shaving cream painting in the previous activity have dried, use them for another art opportunity.
Using stencils or drawing basic shapes free-hand on the papers (like hearts, butterflies or stars), kids can then cut out those colourful paper shapes for lovely display items.
This post contains affiliate links for educational products that I personally recommend. If you purchase through one of them, I earn a commission at no extra cost to you. Read the terms and conditions for more details.
3. Shaving Cream Slime
To make easy shaving cream slime, gather shaving cream, Elmer's white school glue and saline solution. Food colouring and glitter are optional.
In a bowl, mix 1 cup of shaving cream with ½ cup of glue, adding food colouring and/or glitter, if desired.
After these are well mixed, add 1 tablespoon of the saline solution and keep stirring.
If the mixture seems quite sticky, add more saline solution.
When the slime reaches a desired consistency, move it to a clean tabletop or tray.
Kids then mould, stretch and manipulate to their heart's content.
4. Writing Words in Shaving Cream
Shaving cream is a wonderful sensory way to practise name writing.
Kids spread shaving cream onto a tray or tabletop area.
With fingers or craft sticks, they can write the initials of their names, spell their first (and possibly last) names, or try forming letters as you call them out.
Advanced preschoolers could also form easy words like "cat/dog" and "mom/dad."
5. Writing Numbers in Shaving Cream
After spreading the shaving cream on a tray or table, children practise forming numbers with fingers or craft sticks.
Get kids to write their age, the number of people in their families, or any numbers.
6. Name that Scent!
Using unscented shaving cream, add various scents and challenge kids to guess the smells.
Powdered/unsweetened soft-drink mixes in fruit flavours, like grape, cherry, strawberry orange and lemon, add interesting scents and colours.
This also adds a bit of grit as another tactile experience.
Drinking straws work well to mix the sprinkled powders into the shaving cream mounds.
Essential oils or flavour extracts, such as vanilla, mint and banana, also add interesting smells.
7. Rain Cloud in a Jar
Explore the science of rain with the help of shaving cream.
Gather a clear jar with a wide mouth, shaving cream, blue food colouring and a dropper.
Fill the jar about ⅔ full with water to serve as the "air."
Spray shaving cream over the water in a mound to make the "cloud."
Squirt blue food colouring mixed with a little water from a dropper or pipette several times onto the shaving cream.
Observe the blue seeping through, as the "cloud" becomes saturated and releases into the "air" as "rain."
8. Crunchy Sand Play
Elmer's reveals how to make satisfying and crunchy play sand.
Gather shaving cream, Elmer's white school glue, Elmer's Magical Liquid, water, fine art/play sand (plain or coloured), a bowl, and measuring and mixing tools.
In the bowl, combine 1 tablespoon of shaving cream with 1 tablespoon of glue.
Add a few drops of the Magical Liquid (which can also be made by using ½ T of baking soda with ½ T of contact solution containing boric acid).
Add 1 tablespoon of water to the bowl, which should result in a somewhat jiggly substance.
Then add sand a little at a time, pressing and kneading it to mix.
Keep adding sand (about 1 lb/ 450 g) until it no longer sticks to fingers and feels like sandy dough.
Children can then play with the sand by stretching, spreading and moulding. Sand play is excellent for a child's development too!
9. Buried Treasure in Shaving Cream
"Bury" various loose parts, like buttons, coins, small blocks and small figurines, in plastic bins filled with shaving cream.
Little fingers dig to find the treasures, lifting them out and naming the objects and/or their colours.
Children each make a pile of their discoveries and then count to see who found the most loose parts.
10. Ice Cubes in Shaving Cream
For a colour mixing activity, make coloured ice cubes tinted with food colouring or liquid watercolour paint. Add glitter, if desired.
When frozen, pop the cubes out into bins filled with shaving cream. Kids can stack the cubes to make castles and arrange to form designs as the cubes begin to melt.
The more melted the cubes, the more colour seeps into the shaving cream for making pretty designs.
For children with sensory issues, start out by using small amounts of foam for short periods of time. Beginning with fragrance-free cream could also be beneficial.
Be on the lookout for any signs on the hands of sensitivity to the foam. Although these issues are somewhat rare, switching to a different brand or type could help.
Have kids wash their hands thoroughly when they are finished working with the shaving cream.
Above all else, have fun!
While you're enjoying some messy play, try these fun water experiments too.
Get FREE access to Printable Puzzles, Stories, Activity Packs and more!
Sign up and you'll receive a downloadable set of printable puzzles, games and short stories, as well as the Learning Through Play Activity Pack which includes an entire year of activities for 3 to 6-year-olds.
Access is free forever.
Signing up for a free Grow account is fast and easy and will allow you to bookmark articles to read later, on this website as well as many websites worldwide that use Grow.