The ocean is a fascinating topic among young kids and is one of the most popular preschool themes.
Depending on where you live and what bodies of water are found near you, you could also connect this theme with topics like creeks, rivers, bays and lakes.
How do you introduce the ocean to preschoolers?
Here is a list of hands-on, fun ocean activities for preschool and kindergarten kids.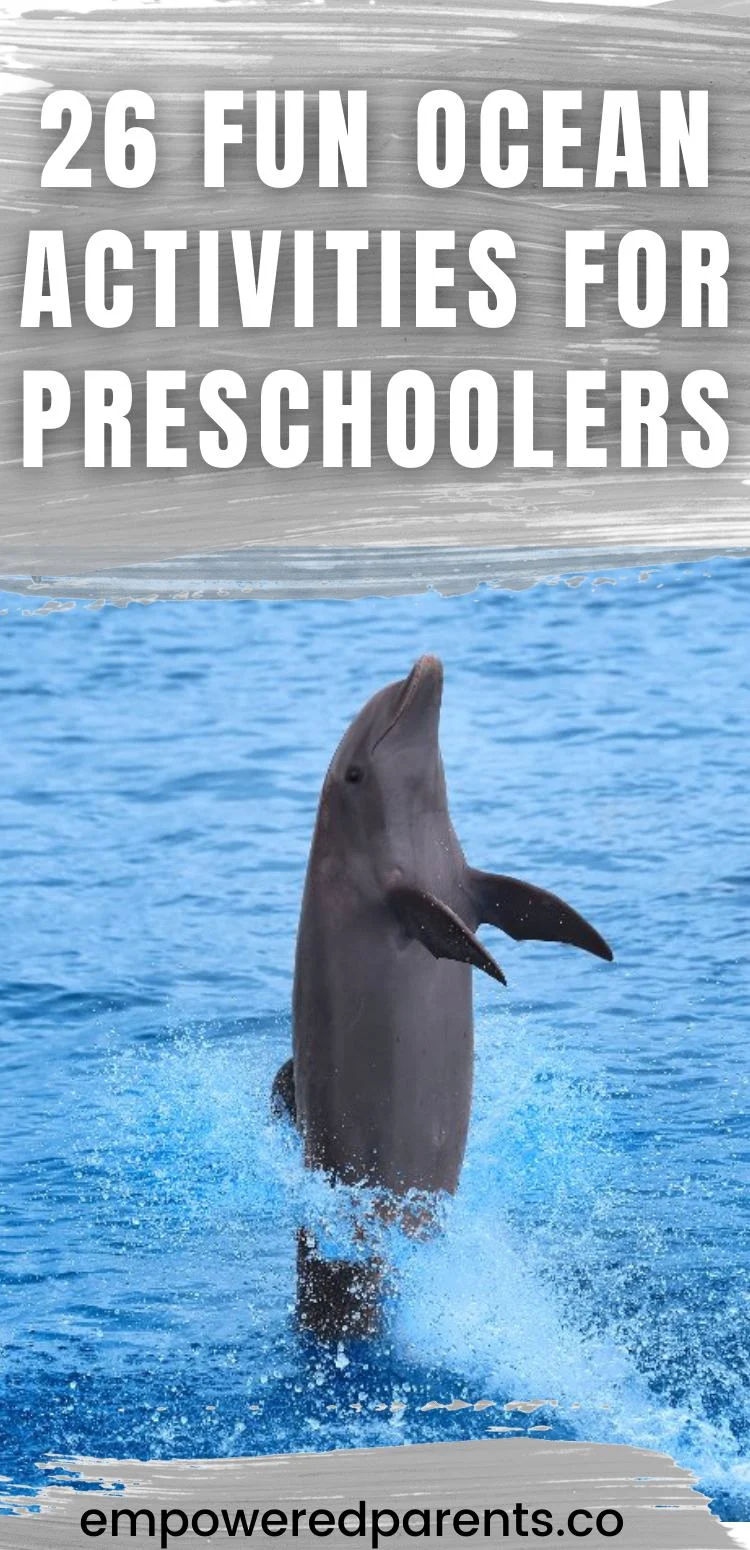 Movement Activities
The busy environment found in and around the water provides opportunities for many different types of ocean-themed gross motor activities for kids.
Move Like a …
Make cards to draw from or a wooden cube to be thrown as a die. On each card or side of the cube, draw symbols to represent the action kids must perform. Here are some possibilities:
Swimmer (rotate arms and head)
Crab (walk on hands and feet with face toward the ceiling)
Jellyfish (wave arms)
Anchor (slowly sink to the ground)
Turtle (swim or walk slowly on the ground)
Dolphin (jump out of the water)
Boater (row a boat with arms)
Clam (open and shut arms like a clamshell)
Seal (clap)
Eel (slither)
Starfish (stretch arms)
Shark (open mouths wide)
Scarf Dancing
Offer a selection of blue and white scarves for children to hold while dancing. Play background music or ocean sounds.
Give children time to try each of these movements to the music:
Spin
Wiggle
Wave
Swirl
Bounce
Swish
Up high
Down low
Swoosh
Criss-cross
Play this fun ocean movement activity video for kids to dance along with their scarves.
Ocean Games
Here are two ocean games to play with your kids.
Charlie Over the Ocean
This game is played much like Duck, Duck Goose, except that players must name things they could find in or near the ocean.
It can be played indoors or outside and gives kids each a turn at getting some exercise.
Here's a demonstration of the game Charlie Over the Ocean.
Go Fishing!
Make simple fishing poles out of dowels, string and magnets. Cut felt or coloured paper into fish shapes, attaching magnets.
Children "fish" to see who has the biggest catch of the day. For an extra challenge, add a number or letter of the alphabet to each fish, to be named when it is caught.
Sensory Activities
Kids love the feel of water or sand slipping through their fingers (or toes). Offer these materials as loose parts, to be experienced in a variety of ways.
Water/Sand Table
Fill your sand and water table and other large containers with sand or water, along with a selection of natural ocean materials and plastic sea creatures to be manipulated and enjoyed.
Sand Play Dough
Make a batch of your favourite homemade playdough and add some sand for texture. During play, children can flatten the dough and press a variety of shells into it to make prints.
This post contains affiliate links for educational products that I personally recommend. If you purchase through one of them, I earn a commission at no extra cost to you. Read the terms and conditions for more details.
Art Activities
The book Rainbow Fish by Marcus Pfister contains beautiful visuals that can lead to ocean art activities for preschoolers. Watch The Rainbow Fish on YouTube.
Rainbow Fish Mobiles
Trim plain paper plates into large fish shapes. Supply a variety of bright materials, such as tissue paper, foil, sequins and glitter, for kids to decorate their fish.
Connect several together with string to hang from the ceiling.
Ocean Mural
Offer a variety of materials, cutouts and markers for children to make an ocean scene on large rolled paper or on a large expanse of cardboard.
Include sand to be glued on for texture and interest.
Books About the Ocean
From fantasy to non-fiction, books for kids about the ocean are a great way to dive into this theme.
Although you can find a multitude of titles on your own shelf, at the library, or on YouTube, here is a list of the top 10 ocean books to include in your plans.
Songs, Rhymes and Fingerplays
Music is always a great way to start any theme. Many songs and rhymes about the ocean involve movement with the hands and fingers.
Once I Caught a Fish Alive
One, two, three, four, five
Once I caught a fish alive,
Six, seven, eight, nine, ten,
Then I let it go again.
Why did you let it go?
Because it bit my finger so.
Which finger did it bite?
This little finger on my right.
Sing along with the hand and finger movements.
Animals in the Ocean
Sing this fun song to the popular tune of "The Wheels on the Bus."
The sharks in the ocean go chomp, chomp, chomp,
Chomp, chomp, chomp,
Chomp, chomp, chomp.
The sharks in the ocean go chomp, chomp, chomp
All day long…
Repeat, replacing the creature and the action for each verse:
The turtles in the ocean go snap, snap, snap.
The crabs in the ocean go click, click, click.
The jellyfish in the ocean go wibble, wobble, wibble.
The clams in the ocean go open and shut.
The seahorse in the ocean rocks back and forth.
[source]
Here are 8 of the best ocean songs for preschoolers.
Drama
Kids are always ready to play pretend! Offer puppets, toys and props that lend themselves to your ocean theme.
Beach Party!
Invite kids to wear their bathing suits, sunglasses and flip-flops for a beach party. Use beach towels instead of chairs, play beach-themed music, and offer healthy beach picnic snacks.
Retell a Favourite
After sharing books and videos related to the ocean, supply kids with related puppets and other props for them to dramatize the stories.
Science Activities
Water, sand, and the many creatures that live near and in the ocean make perfect topics of study for science.
You can also delve into the topic of water with these simple water experiments.
What Colour is Sand?
Provide small labelled containers of natural sand from various locations, along with plastic magnifying glasses.
Kids are usually amazed to discover that particles of many different colours of rocks and other elements work together to form the sand that looks like a solid colour from a distance.
Ocean in a Bottle
Fill a clear canning jar or plastic water bottle half full with water. Add blue food colouring. Fill the rest of the container with baby oil or vegetable oil. Replace the cap tightly.
Tilt the container on its side and gently move to form "waves" on the "ocean." This can lead to discussions of density (water and oil) or what makes ocean waves.
Maths Activities
Shells, stones, driftwood and creatures are all things that can be found at the shore. Use them to count, sort, form into patterns, and recognize shapes, strengthening children's early math skills.
Count to 12
Share the counting book written in rhyme called Seashells by the Seashore by Marianne Berkes. Kids practise counting and learn facts about 12 basic types of shells.
The paperback version includes tear-out pages of the shells to take along on a visit to the beach. Extra sets could also be copied for larger groups.
Shell Sort
Provide various types of shells or picture cards that represent them. Challenge kids to sort them by type, size, shape or colour.
The same can be accomplished with other kinds of natural items found at the beach, such as interesting stones.
Real visits to the shore are certainly among the favourite ocean activities for preschoolers.
While there, they can collect items, help you take photos and videos, and safely soak up some sun. Later on, children can use memories of those experiences to draw scenes and tell stories.
I hope you've enjoyed these simple preschool ocean activities.
Get FREE access to Printable Puzzles, Stories, Activity Packs and more!
Sign up and you'll receive a downloadable set of printable puzzles, games and short stories, as well as the Learning Through Play Activity Pack which includes an entire year of activities for 3 to 6-year-olds.
Access is free forever.
Signing up for a free Grow account is fast and easy and will allow you to bookmark articles to read later, on this website as well as many websites worldwide that use Grow.