For a young child, home is the first learning environment he experiences. Did you know that all the rooms and areas in your home provide their own unique learning experiences?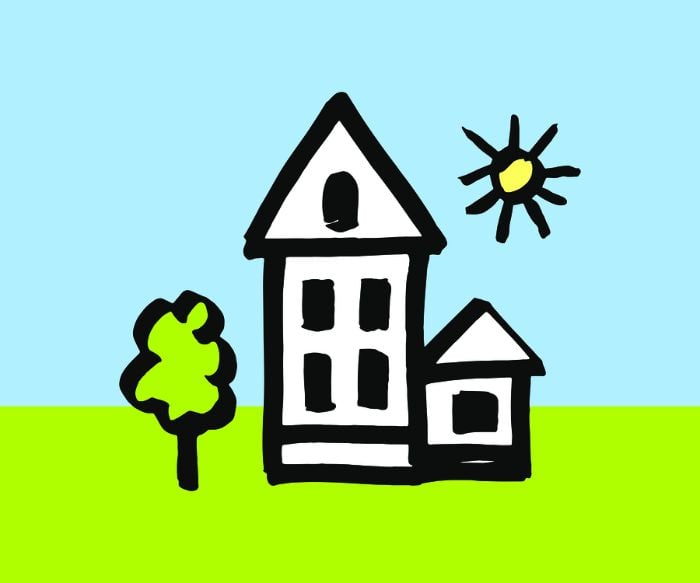 Your home is a great source for developing your child's cognitive, physical, social and emotional skills. Simple activities that are part of your home space can provide many learning opportunities.
"Education is a natural process spontaneously carried out by the human individual, and is acquired not by listening to words but by experiences upon the environment," said Maria Montessori, well known educational developer of the Montessori schools.
Becoming Aware of the Opportunities in Your Home
Having an awareness of the opportunities you have right there in the security of your home makes the method of learning through doing – or hands-on learning – really relevant. It is at home that you can create the learning experiences to help your child learn through play.
A child's daily routine, from getting dressed in the morning all the way through to listening to a bedtime story, is filled with potential learning opportunities. These are chances to develop social, emotional, physical and cognitive skills.
You will be surprised at how much learning potential there is at home. You are probably already doing many of these routine activities without realizing the educational spin-off from them.
In the comfort of your home, you are providing for your child's physical, social-emotional and cognitive development every day.
Just like a 'House and Garden Expo' showcasing all manner of new ideas, I'd like you to take this tour with me of your own house and garden and see the opportunities waiting to be used for play and learning development!
The Kitchen
A great place to start. The kitchen is the hub of the home, a place of nurturing wherein lies a wealth of learning opportunities: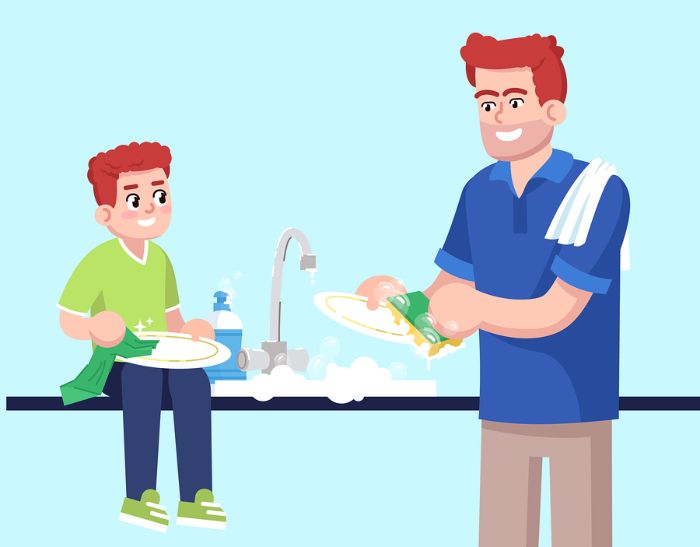 The Living Room
The living room or lounge may have different roles in different families, but generally, it is a meeting place where the family can get together. It is a place where everyone considers each other's needs.
This is a great forum for different educational ideas:
The Dining Room
The dining room is often a neglected area of the house, but it offers many valuable learning activities.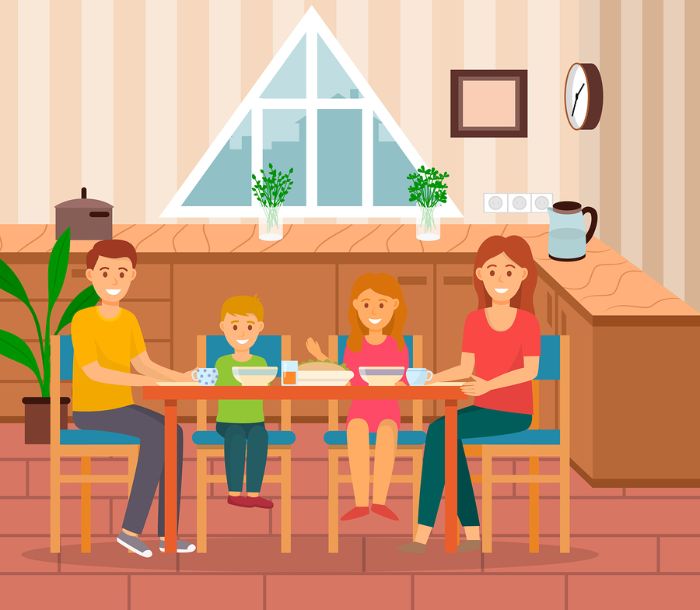 It is a temptation to eat in front of the TV or in the kitchen every night. However, making use of the dining room for some sit-down family meals offers opportunities for learning several worthwhile skills:
The Bedroom
The bedroom is your child's personal space. Children who have their own rooms are lucky to have this area all to themselves. If your child shares a room, try to demarcate it in some way to give some personal 'this is my space' feeling to the room.
What does the bedroom offer besides a place to sleep?
The Bathroom
Many happy times have been spent in the bathroom by young members of the family.
Most children love a warm soapy bath at the end of the day to relax and clean off all those muddy patches from the day's play activities. Some love to giggle and play in the bath.
What else does this happy time in the bathroom provide?
The Garden
Although the garden is not a room in the house, it is an area of the home that is full of learning experiences for growing children.
If you are not fortunate enough to have a garden space then regular visits to a park area will give your child the opportunity for outdoor play with you.
Spending time in the garden and connecting with nature offers many learning experiences:
That completes the tour of your home – a place for playing and learning with your children.
Maria Montessori also said: "Education cannot be effective unless it helps a child open up himself to life."
These words ring true of the valuable life lessons and developmental areas of education that are available right there in your home every day.
Get FREE access to Printable Puzzles, Stories, Activity Packs and more!
Join Empowered Parents + and you'll receive a downloadable set of printable puzzles, games and short stories, as well as the Learning Through Play Activity Pack which includes an entire year of activities for 3 to 6-year-olds.
Access is free forever.
Signing up for a free Grow account is fast and easy and will allow you to bookmark articles to read later, on this website as well as many websites worldwide that use Grow.