Need some ideas for Christmas activities that are educational and also inspire creativity?
A simple search on Pinterest and you will find so many craft ideas. While there are some gorgeous and unique activities to do, most of them don't really foster creativity or thinking, since your child must follow a set of steps to produce a piece of art that copies a model.
There are ornaments to make, card patterns to follow, cookies to bake, etc. However, the end product will always be based on someone else's idea.
Any time you spend with your kids is an opportunity to teach them something, especially through play.
I have been thinking about the regular things we tend to do at this time of the year and wondering where the learning opportunities are.
There is one skill that will get a major workout at Christmas and that is building fine motor control.
Many of the things we do over the festive season – often for our children – should actually be done by them. They are simple activities but they are educational and make great fine motor practice.
Your tree may not look as symmetrical as usual after your little one has gotten involved in putting it up, but she will certainly have fun decorating it with you and learning in the process.
Fine-Motor Building Christmas Traditions for Preschoolers
Here are 5 common things we routinely do every Christmas that you should get your kids involved in this year.
They are certainly not as fancy or glamorous as other activity lists, but they provide definite learning benefits. These activities are excellent for preschool-aged children who are actively building their fine motor skills – the most important of the pre-writing skills.
1. Hanging Ornaments on the Tree
Most tree decorations, such as balls, lanterns or other ornaments come with a thin string or thread to suspend them by. Get your child to hang them carefully on the branches of the tree.
Better yet, since they often break, thread paper clips onto the ends and hang them from the clips.
Threading gem clips onto strings is an intricate task and will require your child to concentrate and carefully control their small finger muscles.
2. Decorating the Tree
Once the hanging decorations are in place, encourage your child to decorate the tree by placing the tinsel around it, as well as a long string of lights.
This seems like a basic task but will require much planning and hand control to twist and manoeuvre the tinsel and lights.
3. Wrapping Gifts
Wrapping gifts actually requires a lot of finger strength and multiple skills.
You need to pull pieces of sticky tape, control a pair of scissors and cut the right-sized length of tape, hold the wrapping paper with one hand while folding the other side with the other hand, and even make a bow.
This can work on midline crossing – a very important pre-writing skill.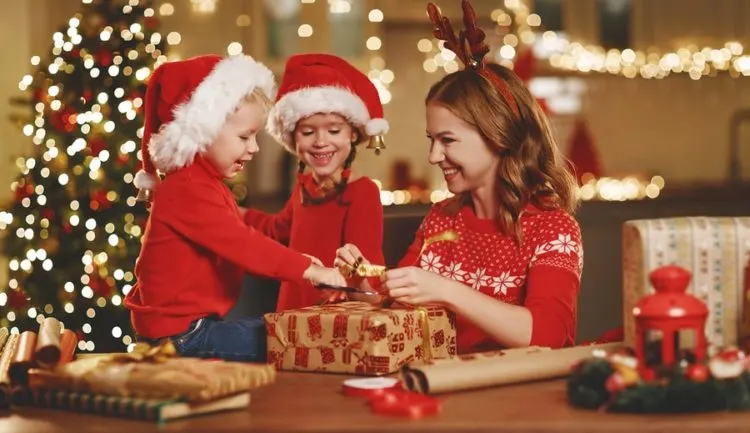 Your gift may not look as neat as you intended once your 4-year-old has wrapped it, but I'm sure the person receiving it will be touched that your little one did it for them!
4. Making Cards
Making Christmas cards incorporates many fine motor activities.
I'm not talking about beautiful, step-by-step make-a-reindeer-or-Santa-Claus-card, I'm talking about 100% your-child-made-it-cards that your family members will love receiving.
All you need to do is provide scissors, cardboard, coloured paper, glue, tape, coloured crayons or paints and decorations.
Here are just a few fine motor skills involved:
Folding

the cardboard to make the card

Cutting

and

tearing the

coloured paper

Gluing

and

pasting

the papers and decorations

Drawing

pictures

Writing

or

tracing

"Merry Christmas" or your child's name on the card
5. Setting the Christmas Table
Last but not least, don't forget to involve your kids in setting the Christmas dinner or lunch table. There are lots of things to add to the table that will work the fine muscles, such as:
Placing and spacing out the cutlery (and practising left and right at the same time!)

Folding napkins

Placing down plates, glassware, etc.

Placing Christmas crackers and decorations on the table
Christmas Craft Activities That Foster Real Creativity
Here are a few more ideas for craft activities that focus on the process, not on the product.
There are some simple ones you can introduce that your child can take in any direction.
These 6 ideas are great for creativity and also for building various fine motor skills.
Try to give minimal instructions – just offer some materials and encourage your child to think of ways to create with them.
6. Making Ornaments
Offer waste and craft materials and see what your child can create. Here are some ideas for materials:
String

Coloured paper, wrapping paper, tissue paper, etc

.

Egg cups, yoghurt cups, small boxes (e.g. matchboxes, spice boxes)

Polystyrene balls

Crayons, paint, etc.

Decorations – beads, sequins, buttons, glitter, etc.

Scissors, glue and tape
7. Painting
Paint Christmas pictures on large pieces of paper.
Provide finger paint, paintbrushes of different sizes, watercolours, sponges and any other painting supplies.
Paint a large tree, Santa Claus, reindeer, nativity scene, etc.
8. Playdough Fun
Make ornaments out of playdough, or be adventurous and use clay or playdough that hardens when cooked.
Paint them when hard and don't forget to make a hole to thread string before they set.
A variation of this is baking cookies and using cutters in Christmas shapes.
Here is a simple recipe for homemade playdough.
Cookie cutters are also great for fine motor practice.
9. Make a Wreath
Make an original, creative wreath to hang on the front door. Give your child a round frame made of plastic, wood or wire and decorate it with natural materials from the garden.
You could also make paper decorations to stick all the way around it.
10. Make a Garland
This is a great activity because it introduces the skill of threading.
Use a string and large plastic/metal needle and thread any items to make a garland to hang somewhere in the house as a decoration.
Thread popcorn, leaves, macaroni dipped in red or green food colouring, paper cut-outs, ornaments or anything else you can think of.
11. Make a Paper Chain
Paper chains are one of my favourite activities. They are so simple yet require so much concentration and skill to make.
All you need is coloured paper (Preferably only 2 colours, 3 for older preschoolers), glue or tape, and scissors.
There are so many skills involved in building a few links:
Cut the coloured paper into strips. Better yet, tear the paper into strips (this requires a lot of muscle control).

Fold each strip and loop it into the previous loop.

Glue the ends together or use a piece of tape to close them.

Alternate colours (e.g. one red link, one green link) and learn about patterning.

Find a way to hang or display them in the house and a provide a solution so they will not fall down
As you can see, these are really basic activities that your children should be doing year-round, but with a new spin on them for Christmas.
They are not complicated to prepare and your children can work on them with or without your supervision, but I'm sure you will enjoy getting involved and doing them together.
Depending on your child's age, you may need to guide him and help where necessary (especially with setting that table or wrapping those presents), but he will enjoy feeling like he has been a big part of the Christmas preparations.
I hope you've enjoyed reading these activity ideas.